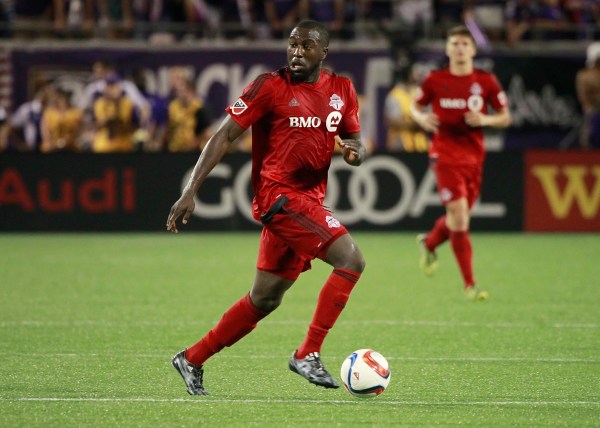 photo by Kim Klement/USA Today Sports
By FRANCO PANIZO
A familiar injury has reared its ugly head again for Jozy Altidore, and it will cost the Toronto FC and U.S. Men's National Team forward a chunk of time at a bad time for both teams.
Altidore is expected to be out of action for 4-5 weeks after being diagnosed with a hamstring strain. The 25-year-old striker picked up the injury in the first half of Saturday's 1-1 draw with the New England Revolution, and was subbed out in the 21st minute.
The timetable of his recovery means Altidore will be out of action until late June or early July, which is just before the start of the U.S. Men's National Team's CONCACAF Gold Cup title defense. Any setbacks could put his availability for the regional competition in jeopardy, and even if he remains on schedule, he will have to work hard to catch up in the match fitness department.
Altidore, who suffered a hamstring injury at the World Cup last summer, has had his ups and downs in his inaugural season in Toronto. He has five goals in eight starts for Toronto FC, including having scored three goals in three matches before the New England match.
The injury will rule Altidore out of the U.S. team's upcoming friendlies in Europe against the Netherlands and Germany in early June, meaning Jurgen Klinsmann will once again be without his full-strength squad.
The injury is a big blow for a TFC side that was counting on him to continue to produce goals as the club looked to climb up the Eastern Conference standings after a slow start to the season.
What do you think of this development? How do you see Toronto FC faring without him? Worried he might not be sharp enough for the Gold Cup? Looking forward to seeing Aron Johannsson be given a chance to start for the U.S.?
Share your thoughts below.