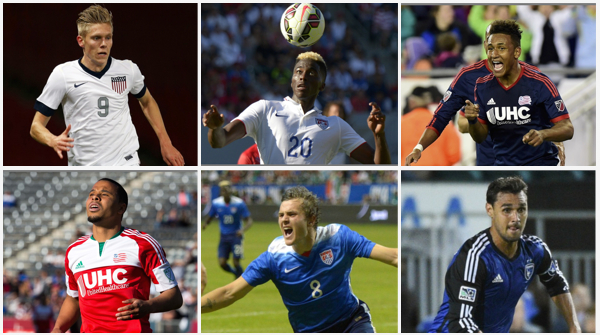 By IVES GALARCEP
Jozy Altidore's latest hamstring injury comes at a terrible time for the U.S. Men's National Team, what with a pair of high-profile friendlies on the horizon. As bad as the timing is, it could actually wind up working out well for U.S. head coach Jurgen Klinsmann.
As tough as it will be to once again be without his full-strength starting lineup, Klinsmann will now have a chance to give some other forwards serious looks against top competition when the U.S. plays Netherlands and Germany next month.
In my latest Goal.com feature, I laid out why Altidore's injury presents a golden opportunity for Aron Johannsson to shine. If this scenario sounds familiar, it's because we saw a similar one at last year's World Cup. Only then Johannsson was also injured and unable to show what he could really do in Brazil.
Give my story a read, and then cast your vote and share your thoughts on who you would like to see Klinsmann give the starting forward nod to for the upcoming matches against Netherlands and Germany after the jump:

[polldaddy poll=8881594]
Who did you vote for? Think Klinsmann should trot out a 4-4-2 diamond against the Dutch and Germans, or see a 4-2-3-1 working with one of the forwards listed above? Interested in seeing the Clint Dempsey as lone striker experiment again, or did you see enough of it in Brazil not to want it again?
Share your thoughts below.