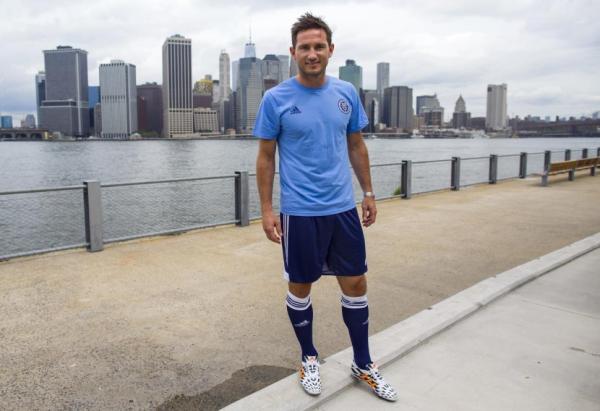 By MATT STYPULKOSKI
With the English Premier League season winding down and Frank Lampard's arrival in the United States just weeks away, details of the soon-to-be New York City FC man's contract have leaked.
According to a report by SI.com, Lampard's contract is worth $6 million per year and runs through the end of 2016. Because of his late arrival, his salary will be pro-rated this year.
That lofty salary puts Lampard among the likes of Kaka, Sebastian Giovinco, Michael Bradley and Jozy Altidore, as well as future Los Angeles Galaxy-man Steven Gerard and NYCFC teammate David Villa, all of whom have salaries reported in the same range. But at 37 years old, Lampard is also the eldest of the $6 million-plus players within MLS.
Here are some more of Wednesday's MLS news and notes:
ARISTEGUIETA ON VENEZUELA'S PRELIMINARY COPA AMERICA ROSTER
Fernando Aristeguieta has been among the few bright spots during a dismal start to the Philadelphia Union's season.
The Venezuelan striker, who moved to MLS on loan from FC Nantes as a young designated player in February, has made nine starts and scored three goals so far this season. As a result, he's been called into his country's preliminary squad ahead of the 2015 Copa America.
Aristeguieta, who has made 12 appearances and scored one goal for Venezuela, traveled back to his native country on Monday to train with the national team. In turn, he will miss Sunday's match against D.C. United.
Venezuela's final Copa America roster is expected to be announced on May 23. Should Aristeguieta make the squad, he would again be absent from the Union's ranks during the summer, as the competition is scheduled to run from June 11 through July 4.
LOS ANGELES FC HIRES SCHLOESSMAN AS COO
Though the birth of Los Angeles FC as a real, on-the-field team is still a ways off, the club has begun assembling its front office squad.
Carl Schloessman, who has spent the past six years working with Live Nation Entertainment, has reportedly been hired as LAFC's new Chief Operating Officer. As such, Schloessman "will be responsible for all revenue and operations, including revenue-generating initiatives for the club, such as sponsorships, marketing and ticket pricing."
In his previous role as Executive Vice President of Sales and Marketing, Schloessman managed Live Nation's 40-plus clubs and theaters.
AVAYA STADIUM IN CONTENTION FOR VENUE OF THE YEAR
The San Jose Earthquakes' new home has been mentioned in the same breath as such fabled buildings as Wembley Stadium, Camp Nou and the Maracanã.
That's because Avaya Stadium has been named to the shortlist for Venue of the Year by TheStadiumBusiness Awards 2015. The Earthquakes' building is one of six on the list, including the three legendary soccer cathedrals, the Sydney Cricket Ground and the San Francisco 49ers Levi's Stadium.
Avaya Stadium is the only stadium to open in 2015 that is in contention for the award, which "recognizes successes and achievements over the past year."