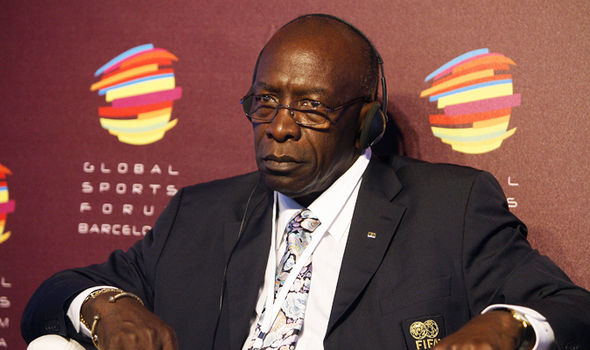 By DAN KARELL
One of the key defendants in the U.S. Department of Justice's case against CONCACAF and CONMEBOL, Jack Warner, is spending the night in jail after turning himself in to Trinidadian authorities.
Trinidad and Tobago authorities filed an arrest warrant against the former CONCACAF president and FIFA Vice President in cooperation with the U.S. DoJ and charged him with eight criminal counts, according to the AP. Bail was set at 2.5 million Trinidadian ($394,457) and although Warner paid the bail, a delay in his processing meant that he would have to spend the night in jail.
The terms of Warner's bail reportedly include surrendering his passport and having to check in with a probation officer twice a week.
Warner is no stranger to corruption allegations, resigning from FIFA following the 2011 FIFA Presidential Election after former partner-in-crime Chuck Blazer turned whistleblower. He's been alleged of money laundering, wire fraud, and more.
Prior to his arrest, Warner released a statement slamming the DoJ for not questioning him and further maintaining his innocence.
"I have been afforded no due process and I have not even been questioned in this matter," Warner wrote in a statement. "I reiterate that I am innocent of any charges. I have walked away from the politics of world football to immerse myself in the improvement of lives in this country where I shall, God willing, die.
"The actions of FIFA no longer concern me. I cannot help but note however that these cross- border coordinated actions come at a time when FIFA is assembled for elections to select a President who is universally disliked by the international community. At times such as this it is my experience that the large world powers typically take actions to affect world football. World football is an enormous international business."
Here are some more notes to catch you up around the world of soccer:
UEFA CALLS FOR FIFA TO BE "REBOOTED"
UEFA took the opportunity today to make a few sharp jabs at FIFA while the world's soccer governing body deals with it's latest corruption and public relations crisis.
Following a hastily called meeting of UEFA officials in Warsaw, UEFA released a statement, calling on FIFA to be rebooted as well as Friday's presidential election to be postponed for at least six months.
"Today's events are a disaster for FIFA and tarnish the image of football as a whole," the statement said. UEFA is deeply shocked and saddened by them. These events show, once again, that corruption is deeply rooted in FIFA's culture. There is a need for the whole of FIFA to be "rebooted" and for a real reform to be carried out.
"The upcoming FIFA Congress risks to turn into a farce and therefore the European associations will have to consider carefully if they should even attend this Congress and caution a system, which, if it is not stopped, will ultimately kill football.
"In the meantime, the members of the UEFA Executive Committee are convinced that there is a strong need for a change to the leadership of this FIFA and strongly believe that the FIFA Congress should be postponed, with new FIFA presidential elections to be organized within the next six months."
FIFA president Sepp Blatter is expected to win his fifth term as president during Friday's elections.
VISA ISSUES RESPONSE
One by one, FIFA sponsors are coming out of the woodwork to respond to today's FIFA scandal, and credit card company Visa are the latest to give their take.
Visa, a FIFA top-tier partner, warned FIFA that they would consider ending their sponsorship contract with FIFA if FIFA does not take reforms seriously.
"Our disappointment and concern with FIFA in light of today's developments is profound," Visa said in their statement. "As a sponsor, we expect FIFA to take swift and immediate steps to address these issues within its organization. This starts with rebuilding a culture with strong ethical practices in order to restore the reputation of the games for fans everywhere.
"Visa became a sponsor of FIFA because the World Cup is one of the few truly global sporting events with the power to unite people from around the world through a common love of football.  Our sponsorship has always focused on supporting the teams, enabling a great fan experience, and inspiring communities to come together and celebrate the spirit of competition and personal achievement – and it is important that FIFA makes changes now, so that the focus remain on these going forward.
"Should FIFA fail to do so, we have informed them that we will reassess our sponsorship."
FORMER FIFA PREZ. JOHANSSON BACKS MOVING 2018/2022 WORLD CUPS
Former FIFA president Lennart Johansson is no stranger to controversial statements.
In spite of current FIFA's current insistence that the 2018 and 2022 World Cups will not be moved out of Russia and Qatar, respectively, Johansson believes that both World Cups will find new homes.
"I expect that they will reconsider the decisions. I'm sure that they will take the initiative to make a new decision in the matter for both 2018 and 2022," Johansson said. "Why not have it in England? They have not had it since 1966 and it is called 'the motherland of football'. Whatever we might think of it, they deserve to get the attention.
"Then I think it should be a free lottery when it comes to the World Cup in 2022. I'm quite convinced that this will be done. As sure as I am that Blatter will win the presidential election again."
———-
What do you think of this news? Do you see Warner being extradited to the U.S.? What do you think of UEFA's comments. Do you see Visa getting out of their sponsorship deal?
Share your thoughts below.