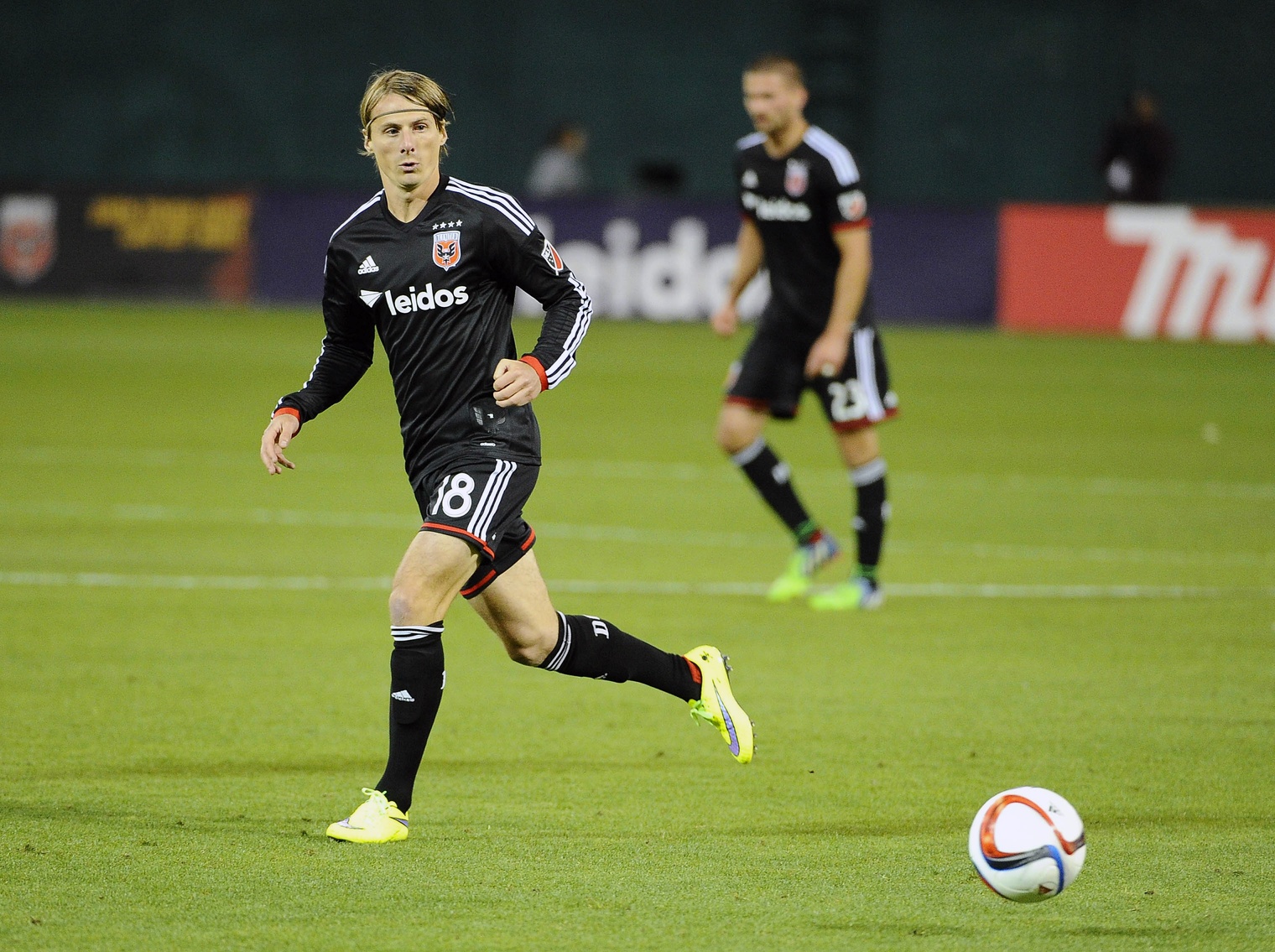 By Brad Mills / USA Today Sports Images
By CLIFF STARKEY
WASHINGTON — Chris Rolfe probably isn't going to be a team's superstar. For a flashy, must-watch showstopper, it's best to look elsewhere.
Despite being top goalscorer twice for the Chicago Fire in 2005 and 2008, and being a consistent scoresheet presence for practically all of his ten-year career, Rolfe doesn't make the all-star teams, MVP shortlists, or the headlines. It's hard to say how history will treat Rolfe's career.
But to his teammates, Rolfe is easy to define: classy.
"I admired him when I played against him," Davy Arnaud, longtime MLS stalwart, said. "I always thought he was very good. I enjoy playing with him even more. He makes the game easier when you're around him. Every game he plays, he brings class and he brings quality."
Rolfe, now 32, is currently enjoying possibly the best form of his professional career. After scoring the game winner Wednesday night against Orlando City — a stretching toe-poke that extends D.C. United's unbeaten streak to eight games — Rolfe has made the score sheet in five of his last six games.
Against Orlando City, D.C. United looked lost offensively until Head Coach Ben Olsen brought Rolfe on early in the second half. After the substitution, D.C. United's offense clicked and dominated the rest of the game. According to Olsen, that's no coincidence.
"He's been as good as anybody for us this year," Olsen said following the match. "It's fun to watch him."
Another MLS veteran, club captain Bobby Boswell said that Rolfe's latest offensive contribution was impressive, but not at all surprising, considering his skills.
"He does that stuff every day in practice," Boswell said, before offering perhaps even greater praise than Arnaud.
"I say he's up there…with some of the best I've ever played with," Boswell said.
For now, Rolfe is in the spotlight. But even with the plaudits of his coach and his teammates, he refuses to discuss long-term ambitions for himself, or his team. He also isn't fond of spending too much time focusing on the positives, or the here-and-now.
Rolfe was quick to give credit to others, praising Jairo Arrieta's superb set-up for his impressive goal.
"I'm somewhat happy with [the goal]," Rolfe said. "It was a pretty easy finish that I almost messed up."
When pressed to elaborate, Rolfe's response showed why the humble playmaker is so well-regarded by fellow players, if not necessarily the media.
"[Orlando City goalkeeper Donovan Ricketts] got his hand on it, didn't he?" Rolfe said.  "There's always a lot more that you can do — I don't think my game is as clean as I want it to be right now."
If it gets any cleaner, the accolades (and awards) that his career have been missing may soon come Rolfe's way.
Not that it would matter to him.