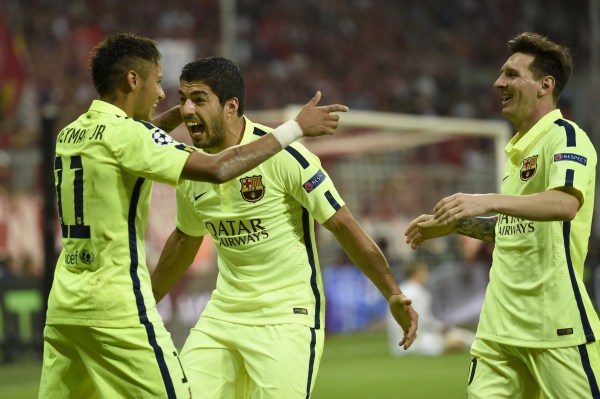 By ADAM TROXTELL
Some deficits are just too great, even for Bayern Munich.
The German champions were able to beat Barcelona, 3-2, in the second leg of their UEFA Champions League semifinal, but it wasn't enough. Barcelona rode a 5-3 aggregate win to its first Champions League Final since 2011, where either Juventus or Real Madrid will join.
The final will be played on Berlin on June 6.
Despite an early goal from Mehdi Benatia to pull Bayern back, Barcelona never looked like missing out with its attacking trio of Lionel Messi, Neymar, and Luis Suarez operating at the highest level.
The three combined for Barcelona's first goal on the night in the 15th minute before Neymar added a second to completely dash Bayern's hopes of a comeback. Goals from Robert Lewandowski and Thomas Muller in the second half proved to only be consolations.
Desperate for a goal to try and bring a place in the final back within reach, Benatia rose unmarked in just the seventh minute to head in a corner kick for Bayern. The early goal had home fans clamoring for a potentially famous night, as Bayern had already overcome a deficit against Porto to reach this stage.
The intensity inside the Allianz Arena was then diminished by a pair of Barcelona goals that both involved Suarez. The Uruguayan beat the offside trap to corral a pass by Messi, dribble to the right of goal and square a ball to Neymar for an easy finish.
Barcelona's second came in similar fashion. Once again, Suarez just stayed onside before playing a ball to the far post that was tapped in by his Brazilian teammate in the 29th minute, and the hole Bayern had to climb out of became a mountain.
The German side did manage to climb closer to the visitors in the second half. In the 59th minute, Bayern took advantage of Barcelona's relaxed demeanor to wrestle the ball away. Lewandowski benefited, sending a shot from the top of the box inside the right post.
Bastian Schweinsteiger then exchanged passes with Muller, teeing up the latter for a wonderful 20-yard effort that curled inside the far right post in the 74th minute. It only served to restore pride.
Minutes before that goal, Barcelona brought on the newly fit Jeremy Mathieu and moved Javier Mascherano up into the midfield to plug the gaps. Bayern never really came close again.