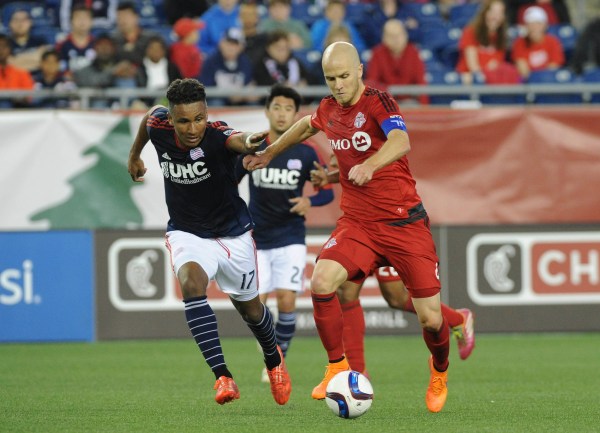 Photo by Bob DeChiara/USA Today Sports
By CARL SETTERLUND
FOXBOROUGH, Mass. — With the New England Revolution trying to extend their two-month unbeaten streak and Toronto FC's Jozy Altidore injured early, it was instead Michael Bradley who stole the show.
Bradley took a pass from Sebastian Giovinco just past the midline in the 53rd minute and he needed only six touches to carve through the Revolution defense and set the final score at 1-1 in front of a season-high crowd of 24,269 at Gillette Stadium.
"It's just that power that he has as he gets moving forward and sometimes you're not sure where it's going to end up," TFC coach Greg Vanney said. "He kept going and to be able to actually get that shot on goal and into a corner after that run is incredibly impressive."
New England had gone ahead on a Juan Agudelo header in the 32nd minute, and the Revs (5-2-4) played in the offensive third for much of the closing stretch. They put seven shots on goal in the second half alone.
The hosts were unable to beat TFC goalkeeper Chris Konopka, though, as he made eight saves to keep a lively game from reflecting as much on the score sheet. Bobby Shuttleworth made six saves at the other end as Bradley, Giovinco, Agudelo, Lee Nguyen and Charlie Davies all had multiple shots on target.

The Revs found themselves in a similar situation last week, giving up two second half goals to Orlando City SC to settle for a 2-2 draw at the Citrus Bowl.
New England did extend its unbeaten streak to nine games (5-0-4), which it will look to expand to double digits during a Wednesday night road game against Sporting KC.
"It would be a lot nicer and we would think about it if it was a multiple-game win streak," Agudelo said. "We would like to go on a win streak, but ties at home, we're not really happy about them because we know we're better than that."
Jozy Altidore came off with an apparent right hamstring strain in the 21st minute, putting a damper on the night for Toronto (3-5-1), which now returns home for five of its next six games.
"I don't have a real indication of what exactly, or how bad, or potentially how long, but when I just saw him he was in good spirits," Vanney said of Altidore's injury status.
The Revolution's Jermaine Jones — who again wore the captain's armband despite the return of Jose Goncalves — also left the game early in a 63rd-minute double substitution along with Agudelo.
"Jermaine had a little bit of a knock early this week and missed a little bit of training," Revs coach Jay Heaps said. "With so many games coming up we wanted to be smart."
Jones did not talk to the media after the game.
Agudelo got on the end of a right side cross from London Woodberry to make it 1-0 in the first half. It was the second assist in three games for the 23-year-old Revolution newcomer Woodberry.
"Charlie and Juan both made good runs," Woodberry said. "It was just the type of play where I had a lot of space, got to pick my head up and got to serve in a good ball with a lot of time on my hands. Kudos to Juan for getting his head on the end of it."
The hosts couldn't hold on, though, as Bradley dribbled past Teal Bunbury and Chris Tierney, and also shrugged off several challenges by Scott Caldwell to beat Shuttleworth into the bottom left corner.
"Bradley just broke us down and it's tough," Revs center back Andrew Farrell said. "The boys worked really hard, and we had the chances, too, as well to capitalize. Even though it's a tie, it feels like a loss. Back-to-back games we've had the lead and given up the lead."
What did you think of Bradley's goal? What about Konopka's performance in goal for TFC? Did New England deserve another goal? Should Jones remain captain going forward?
Share your thoughts below.