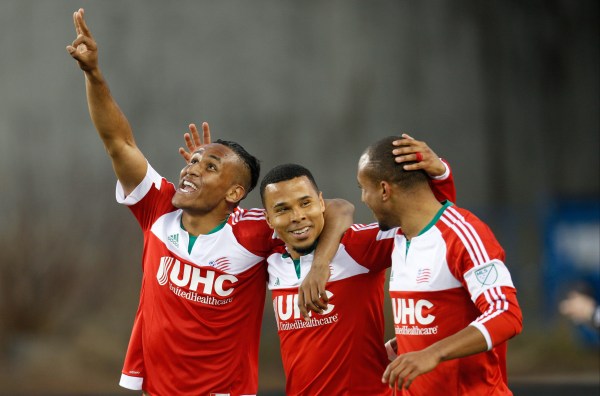 Photo by Greg M. Cooper / USA Today
By CARL SETTERLUND
FOXBOROUGH, Mass. — Their regional rivalry is usually reason enough to pay attention to games between the New England Revolution and New York Red Bulls; however, Saturday's match at Gillette Stadium was also a meeting of two squads riding extended unbeaten streaks.
The host Revolution got the upper hand early on a ninth-minute header from Charlie Davies, and led the rest of the way in a 2-1 win over the Red Bulls in font of 18,296. The Revs copied their efforts from last season's Eastern Conference final series to take an early-season advantage.
"I know that there's a little bit feelings," said the Revolution's Jermaine Jones. "You can see it the same in baseball with Red Sox and Yankees, so maybe we have that with New York Red Bulls. In one point, I say it's nice. You want that game. And I like that game."
Davies scored the go-ahead goal off of a right side in-swinger from emerging right back London Woodberry, diving to get in front of Red Bulls defender Matt Miazga and powering his header past goalkeeper Luis Robles.
"I remember a couple of games back he was a little bit down when he didn't start," Jones said. "I told him, 'Keep going, you played a good season last season and you're really important to the team. You get the chance, you will score and you will come back.' And that's what he did."
The hosts made it 2-0 in the 60th minute on a finish by Teal Bunbury, but the lead-up was the impressive part. Davies, Juan Agudelo, Scott Caldwell and Lee Nguyen all had a touch on the ball in the seconds before Bunbury banged it inside the right post.
"Their defenders are going to close on the ball — they have to because they have to take away the shot — so we always talk about our spacing," Heaps said. "That's a perfect example of not getting too on top of each other, having that pass. I thought Teal was exactly where he needed to be."
Davies nearly added another goal on a breakaway chance in the 71st minute, but missed wide right.
Two minutes later, Mike Grella sent Sacha Kljestan in behind the Revs defense with a long header. Kljestan took one touch to beat goalkeeper Bobby Shuttleworth — who recorded three saves on the night — before cutting the lead in half with a composed finish. The goal was the first allowed in the run of play by New England (5-2-2) since March 15 in a Week 2 loss against New York City FC.
The win moves the Revs' unbeaten streak to seven games, while the Red Bulls (3-1-4) suffered their first loss of the season.
"I think we still have that belief that we can beat them," Grella said. "If you look at that game we had a lot of chances, we had a lot of opportunity, we had a lot of the ball."
Lee Nguyen and center back Jose Goncalves both came into the game for the Revs as second half substitutes, which meant Jones started his third straight game in defense.
The Red Bulls were also depleted, as coach Jesse Marsch opted to start five new players from Wednesday's midweek match against the Colorado Rapids. Bradley Wright-Phillips and Lloyd Sam both came on as subs, while Roy Miller, Chris Duvall and Damien Perrinelle remained on the bench.
New England moves on to play at Orlando City SC next weekend, while New York will look to get back in the win column against NYCFC at Red Bull Arena next Sunday.
What did you think of today's match? Would the Red Bulls have won with a full strength lineup? Is this a quality win for the Revs?
Share your thoughts below.