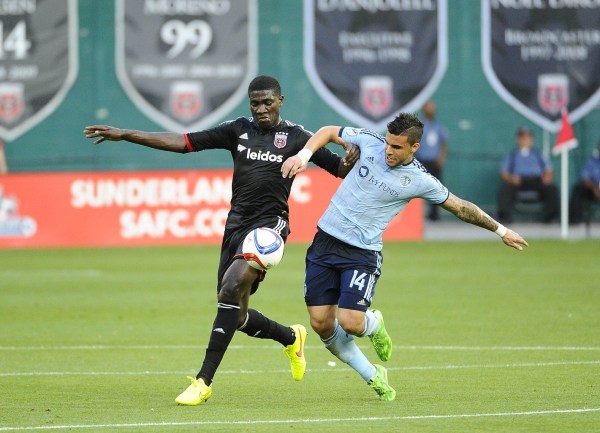 Photo by Brad Mills/USA Today Sports
 By RYAN TOLMICH
Down a goal after proving dominant in the opening half, Sporting KC earned a point thanks to a Dom Dwyer equalizer.
Dwyer provided the tying goal just moments after Jairo Arrieta's opener, earning Sporting KC a hard-fought road point at RFK Stadium.
Sporting KC opened the game hot, smashing the crossbar in the 19th minutebefore things got fast and furious just moments before Arrieta's opening goal in the 42nd minute.
On the receiving end of a perfectly hit long-ball from Perry Kitchen, Chris Pontius cut back through the Sporting KC box before centering to Arrieta. The D.C. United forward tapped in first time from close range, giving D.C. United the 1-0 lead.
Dwyer ensured that lead evaporated just three minutes later, smashing a left-footed shot past Bill Hamid on a centered pass from Roger Espinoza. The finish was Dwyer's third goal of the season and second in three games.
The Sporting KC forward appeared to have doubled his tally in the 62nd minute via a headed effort on a Roger Espinoza cross. However, Dwyer was deemed to be offside, keeping the scoreline level.
Adding to SKC's frustrations was an injury to Graham Zusi, who was taken off in the 90th minute after having his forehead bloodied a few minutes prior.
With the draw, D.C. United maintains a seven-game unbeaten run an moves level with the New England Revolution atop the Eastern Conference standings. Meanwhile, Sporting KC equals the LA Galaxy, San Jose Earthquakes and Real Salt Lake on 14 points while riding a three-match unbeaten streak.
D.C. United returns to action on May 13 for a matchup with Orlando City, while Sporting KC hosts the Colorado Rapids on May 16.