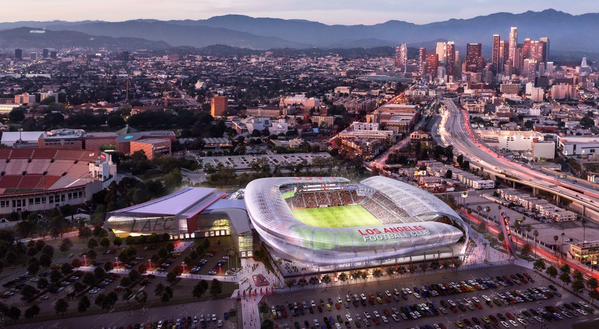 By RYAN TOLMICH
Los Angeles FC doesn't want just any stadium; the club wants something special.
The club announced Monday that it plans to build a $250 million 22,000-seat stadium at the site of the Sports Arena in Exposition Park. With a development that is set to include over 100,000 square feet of restaurants, offices, a conference center and a soccer museum, head of ownership Henry Nguyen is looking for his team's stadium to be an epicenter of soccer culture.
"We want it to be one of the cathedrals of soccer in this country and around the world," Henry Nguyen said at a press conference Monday. "The great opportunity here is that L.A. is the world's city and this is the monument to the world's game here."
Nguyen was joined by fellow owners Ervin "Magic" Johnson, Nomar Garciaparra and Tom Penn, as well as MLS commissioner Don Garber, who gave credit to the LA Galaxy's StubHub Center for helping to pave the way for stadium's in the U.S.
"We really have to take a step back," Garber said, "and remember that the cathedral for soccer was built in 2003 with what is now the StubHub Center and it really showed how we can transform our league with world-class buildings.
"Here we are, 12-years-later announcing a new stadium for our newest team in LA and it just harkens back to what great buildings can mean for building a fan culture and providing an opportunity for our teams to embed in the community.
The venue would be the first open-air stadium built within the city limits since 1962, creating massive economic opportunity for the area. The project is expected to generate $275 million in one-time economic activity in terms of construction, while yearly operations could generate an additional $129 million annually.
"I'm excited to welcome the Los Angeles Football Club to the City of Angels," said Mayor Eric Garcetti in a press release.  "Los Angeles loves soccer and now the greatest sports town in America gets even better.  I know this ownership group is committed to representing the best our city has to offer.  And I'm especially pleased that this proposed state-of-the-art stadium will be located in South Los Angeles to help revive that neighborhood and bring more jobs and opportunity for our residents.
"I look forward to celebrating the inaugural season and soon the MLS Cup in the City of Los Angeles."