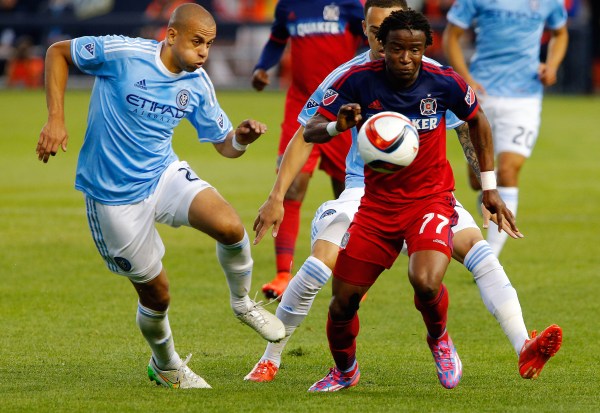 photo by Noah K. Murray/USA Today Sports
By FRANCO PANIZO
NEW YORK — Blank stares, disappointed faces and a somber mood filled the visitors' locker room at Yankee Stadium on Friday night. The Chicago Fire had played arguably their best half of soccer this season, only to let it go to waste with a disappointing second stanza that saw them settle for just one point instead of three.
The Fire and New York City FC had played to a 2-2 stalemate on Friday night, but the draw felt more like a loss for Chicago given the way the Eastern Conference played out.
In a largely dominant first half display that several of their players and staff said was among the best the club has played this year, the Fire jumped out to a two-goal lead and held a man advantage after just 27 minutes. NYCFC rookie defender RJ Allen was sent off with a straight red card for denial of an obvious goal-scoring opportunity, and Jeff Larentowicz stepped up and converted the ensuing spot kick to have Chicago sitting pretty at 2-0.
Making things even more impressive for the Fire was how in control they were of the match. The visitors won the possession battle, defended compactly, and looked like they could enter the final third however and whenever they wanted.
But when Mehdi Ballouchy scored on a rebound in the 44th minute, the momentum shifted and the Fire began to crumble. The strike injected life into 10-man NYCFC and its crowd of 23,315, and Chicago's response after halftime left a lot to be desired.
"Just disappointed with how we handled the second half," said Fire head coach Frank Yallop. "We just stopped playing and then you allow momentum. The goal right before halftime obviously gives him them hope because they only need one goal to get a tie.
"I just felt we allowed them to play when we shouldn't have and we had chances to bury the game as well. But still we shouldn't give up chances and when you give many chances up, it's just disappointing."
Conceding chances was just part of the problem. The Fire as a team did not come out with the same intensity in the second half and failed to capitalize on the man advantage they had. Chicago did manage to threaten at times in the attack, but lost the rhythm it initially had, conceded more of the ball, and just did not click in the same way that it did in the first half.
NYCFC, to its credit, also raised its game after the break. Jason Kreis' team looked more confident when it was in possession, played with more desperation, pressed higher up the field, and switched to a three-man back line an effort to salvage a result.
The Fire struggled to cope with the adjustments.
"I think we were afraid to kind of lose the ball in our own half, which if you're afraid to lose the ball in your own half you end up just dumping too much," said midfielder Harry Shipp. "I think, for us, we were just playing it behind over and over, and we got through a couple of times, but I think if we want to see out a game like we should we need to pass the ball around and switch it from side to side."
One tactical move that really seemed to hurt the Fire was taking Shipp out of the game. Yallop replaced the creative attacker in the 71st minute, inserting Michael Stephens to try and help with possession to close out the game.
While there was merit behind the the idea, it welcomed NYCFC to attack more aggressively and proved costly to the Fire. Chicago lost a good bit of what remained of its attacking edge during those final 19 minutes, which allowed NYCFC to get forward in numbers even more before rookie Khiry Shelton found an equalizer in the 91st minute.
"Think at that point we had enough chances to get 3-1, and it didn't look like maybe we were going to get another one, though we did have some chances later one," said Yallop when asked why he took off Shipp. "I put Mike on just to control the possession a little bit. It seemed like it was a track meet out there We didn't really want that. We wanted to slow it down and try to just maintain the ball, and move it around and kind of spoil the game if you'd like.
"It is what it is. You make decisions and you live by them."
Disappointment aside, there were still some positives to take from the draw. The Fire not only put forth an encourage first-half showing, but also grabbed a road point to move to 3-5-1 on the year and remain above the red line in the Eastern Conference.
Still, they know more was there to be had.
"It's just a matter of putting the complete 90 together," said Fire goalkeeper Sean Johnson. "I think that's the main thing. You've seen flashes of being a really good team, I think. It's just cutting out the one, two lapses here and there, and capitalizing on both ends of the ball I think is most important for us going forward."