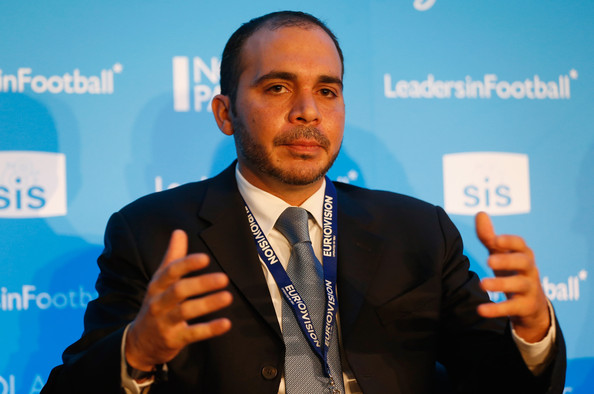 By RYAN TOLMICH
With Luis Figo and Michael van Praag opting to step aside to help support his bid, Prince Ali bin Al Hussein is hoping to shakeup the World Cup should he be elected FIFA President.
Prince Ali says that one change he hopes to make to FIFA involves upping World Cup participants from 32 to 36, with the AFC, CAF and CONCACAF all earning an additional berth. In addition, the plan would see CONMEBOL and OFC rise from 4.5 and 0.5 to five and one berths, respectively.
"[I will make a] commitment to extend the number of teams in the World Cup from 32 to 36 teams as soon as possible," Prince Ali said. "Ideally in time for the 2018 World Cup."
Prince Ali's campaign now makes him the sole competitor to the incumbent Sepp Blatter following Figo and van Praag's decision to step aside and throw their name behind the challenger.
Here are some more news and notes to kick off your Friday morning:
QUERETARO DROP FIRST LEG TO PACHUCA; CHIVAS DRAW WITH SANTOS
In the opening leg of the Liga MX Liguilla semifinals, Queretaro looked overmatched.
Ronaldinho and co. fell to a 2-0 defeat to Pachuca at the Estadio Hidalgo, giving Queretaro a major hole to climb out of heading into the tie's second leg.
Pachuca, who maintained 65 percent possession, was led by goals from Germán Cano and Rodrigo Salinas in the ninth and 39th minutes, respectively, while Queretaro's undoing was furthered by a Ricardo Osorio red card just before halftime.
In the other semifinal, Chivas de Guadalajara was held scoreless in a draw with Santos Laguna, setting up a tense second leg at the Estadio Omnilife.
Both second leg contests will be played on May 24.
LIGUE 1 REDUCES RELEGATION FROM THREE TO TWO
Starting next season, it will be just a bit easier to remain a part of France's elite clubs.
The French Football League (LFP) has opted to reduce the relegation spots in Ligue 1 from three to two in an effort to give potential owners "more security" on their investments.
"Investors need a little more security," LFP president Frederic Thiriez toldL'Equipe. "Three up, three down is too many. Those who invest in football must be less subject to the permanent threat of relegation. Two down out of 20 clubs is good."
The same system will be put in place in Ligue 2 regarding relegation to the country's third tier.
QUICK KICKS
Eden Hazard and Jose Mourinho have been named Premier League Player and Manager of the Season, respectively. (REPORT)
Arsenal's Tomas Rosicky has extended his contract with Arsenal by one year. (REPORT)
Bayern Munich manager Pep Guardiola says midfielder Bastian Schweinsteiger is wanted back with the club, but must decide on his own future. (REPORT)
Zbigniew Boniek, chairman of the Polish FA, says Russia should be stripped of hosting the 2018 World Cup due to the country's ongoing conflict with Ukraine. (REPORT)
What do you think of Prince Ali's World Cup plan? Who do you see as favorites in Liga MX? What do you think of France's new relegation system?
Share your thoughts below.