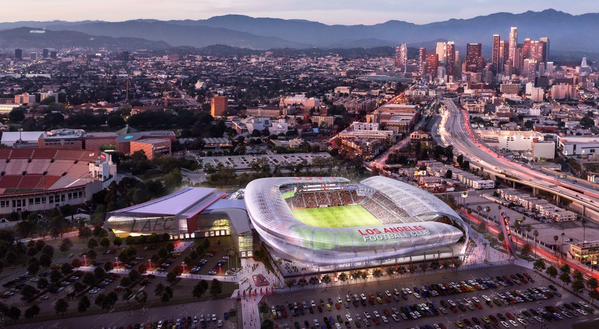 photo courtesy of Los Angeles FC
By RYAN TOLMICH
Los Angeles FC has reportedly found a home.
The LA Times reported Sunday that LAFC has selected the Sports Arena site in Exposition Park to house the club's privately-financed stadium. The $250-million complex will cover 15 acres and will be situated near the L.A. Memorial Coliseum.
As a result, the club's debut would be pushed back until 2018 to make up for time needed to demolish the 52-year-old Sports Arena and construct the new stadium.
The club, which tweeted an rendering of the stadium on Sunday, is expected to formally announce the move on Monday.
The 22,000-seat arena will still need approval from the Coliseum Commission and the L.A. City Council, but both groups, as well as L.A. Mayor Eric Garcetti, have expressed support for the project, which could be given the green light as soon as July.
The stadium would be the first open-air sports venue to be built in the city since 1962.
What do you think of the stadium choice? What are some expectations you have for the stadium?
Share your thoughts below.