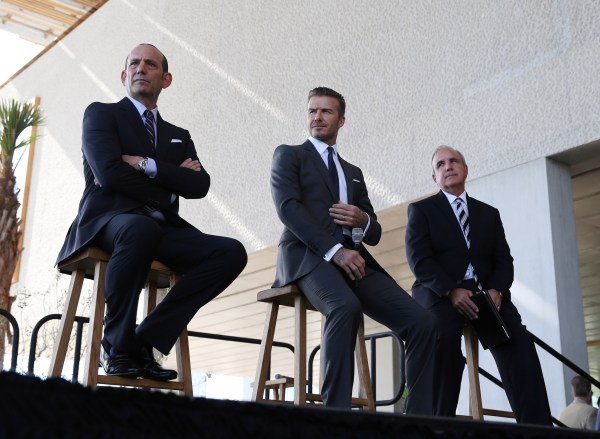 photo by Robert Mayer/USA Today Sports
By FRANCO PANIZO
Don Garber was in Los Angeles on Monday for LAFC's stadium plan announcement. He'll be in Miami later this week to try to figure out how to get something similar done there.
Garber informed reporters on Monday that he is set to return to Miami to continue the ongoing soccer-specific stadium talks that prospective MLS club owner David Beckham is having with the city. Nothing concrete has developed in recent months, but the MLS commissioner does not sound like he's losing faith in Beckham's desired Miami plans.
"I remain optimistic and committed to David Beckham and his partners, but until we have more information it's hard for us to have any answers," Garber told media out in Los Angeles. "There are a number of different sites we're looking at, but none have popped up out of the pile to give us the sense that there is a deal that can be done immediately.
"That being said, David and (and his ownership group partners Simon Fuller and Marcelo Claure) are as focused if not more focused than ever before, so there is no lack of activity. It's just a lack of any definitive news."
In recent weeks, an area to the west of downtown Miami and near Marlins Park has been talked about by city officials as being suitable for a stadium. But Beckham's group, Miami Beckham United, has not publicly expressed interest in that piece of land, which Fuller previously labeled "spiritually tainted".
Miami Beckham United has been working to iron out a stadium deal in the South Florida metropolis for more than a year now. Beckham announced in February 2014 his decision to use his discounted rate for an expansion franchise in Miami, but has run into opposition for two of the sites he's targeted.
Recently, Garber said that a Miami franchise would be in MLS by 2020.
What do you think of Garber's most recent comments regarding a potential MLS team in Miami? Surprised to see him and the league be so adamant about it? Do you see a stadium deal getting done by the end of the year?
Share your thoughts below.