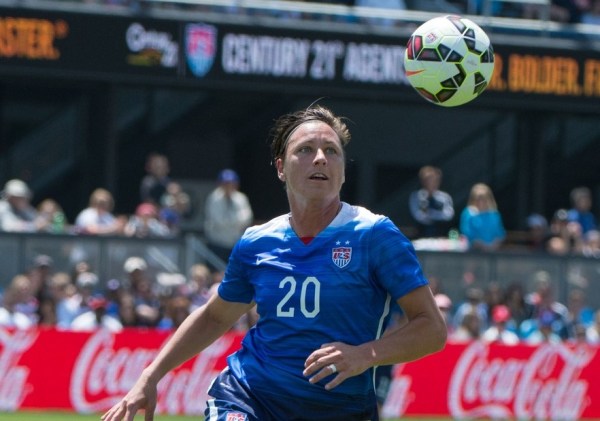 photo by Kyle Terada/USA Today Sports
By FRANCO PANIZO
NEW YORK — Abby Wambach has smashed the international scoring record, won a FIFA World Player of the Year award, and claimed two Olympic gold medals.
Yet there's still something she is desperately craving.
Wambach's storied career has seen her accomplish a whole lot from both individual and collective points of view, but the one thing that has eluded her throughout is winning a World Cup. Wambach is set to enter her fourth and final World Cup with the U.S. Women's National Team in a matter of days, and the soon-to-be 35-year-old striker is eagerly hoping to cement her legacy by crossing off that final item from her to-do list.
"Right now, you're damn right I need it," said Wambach. "It's all that I'm thinking about. It's all that's on my mind. It's the thing that I haven't been able to be a part of. I haven't won yet. It's something that I know all of us have to be willing to be forever disappointed in not winning, because that's what it takes.
"You have to completely give into it, you have to completely allow yourself to be crushed by something. It's like love. If we give into it, if all of us give into it, then I think that we can have a chance at this. I do."
Here are more notes from the U.S. Women's National Team's Media Day:
KRIEGER CONFIDENT USWNT WILL "CRUSH IT" IN CANADA
Ali Krieger sure is not lacking in confidence right now.
The 30-year-old defender said Wednesday she thought the U.S. was going to "crush" and "kill" it at the World Cup this summer, especially after coming so close to winning the tournament back in 2011. The Americans made it to the final in Germany that year, but crushingly lost to Japan on penalty kicks after playing to a dramatic 2-2 draw.
"I haven't stopped thinking about it since we left," said Krieger. "I think of it every other day, especially when the tournament's coming up and I'm super excited because I just want to start that tournament over again. We want to iron out those details, we want to just make sure we're sharp enough so that that game doesn't happen again.
"I think we've obviously learned from our mistakes, and then we just have grow from it and move on and you do better. I think that that's our mentality. We're just going to go in there, worry about ourselves, worry about each opponent, take one day at a time, take one game at a time, and, yeah, we're going to kill it, we're going to crush it."
Krieger also expressed her desire to play against the premier players and teams at the World Cup. She does not want an easy path to the U.S.'s third World Cup title and first since 1999, but rather a challenging road that pushes her and her teammates to their limits.
"I think that that's our whole mentality, is that we want to play against the best team," said Krieger. "I wish we could play against France and Germany every single friendly, just because we get better from it and we learn and I think that that is so much fun about playing football. You want to always play against the Brazils of the world and the Swedens of the world. Who wouldn't?
"That's why it makes football so much fun and this is why I'm so excited for our group, that specific reason. It's going to be that much more rewarding standing with my gold medal and our gold medal at the end of the tournament being like, 'We just beat all those awesome teams and we deserve it.'
"That's such a good feeling rather than playing against maybe the lesser teams and then having a gold medal. It just doesn't make sense to me. I'm not there to play against less teams or maybe the 56th team in the world. I'm there to play against the first, second, third, fourth, fifth, sixth, seventh teams."
SOLO NOT DWELLING ON LEGAL ISSUES
Hope Solo may still be in the midst of legal proceedings regarding a domestic violence case, but she is not preoccupying herself with the matter. Not with the World Cup looming.
Solo was asked Wednesday about the two counts of fourth-degree assault that she is currently dealing with, but refused to talk about the subject. Instead, the 33-year-old goalkeeper put the focus on the upcoming tournament in Canada.
"I'm here to talk about the World Cup and soccer," said Solo. "What I can tell you is that I'm in the best place in my life, both on the field and off the field. I have great teammates behind me, I have a great coaching staff, and I'm just honestly really excited to go to my third World Cup."
Solo was arrested last June after allegedly assaulting her sister and 17-year-old nephew. A judge dismissed the charges this past January, but the city of Kirkland filed an appeal in March.
LEROUX UNSURE OF CANADA FAN REACTION
It's safe to say that Sydney Leroux is not a fan favorite in Canada, but the U.S. forward is still not sure what kind of fan reaction she will get when she takes to the field during the World Cup.
Leroux and Canucks fans have notoriously butted heads in the past, with the latter primarily upset over the 25-year-old's decision to play for the U.S. despite being born in Canada. The two had a major incident in 2013 in which fans allegedly hurled insults and racial slurs at Leroux, and she does not know whether that will be repeated again when the games north of the border get underway in a few days' time.
"I don't know. If I am, I've got the best people behind me," said Leroux when asked if she was Public Enemy No. 1. "Really, I'm not going to let it affect me. I've worked very hard to get to where I am, and I hope people understand that when I come into Canada. That was the best decision for me and my family to make when I was nine years-old and I made the decision that I wanted to play for the U.S."
Leroux also has no intentions to stay away from social media or from being herself during the World Cup. She plans to go about things as she normally does, regardless of how she might be perceived.
"I'm not going to stop being who I am because some people don't like that," said Leroux. "I think that the most important part about life, not even in soccer in general, is to stay true to who you are. That's what I'm going to do in Canada, I'm going to be Sydney Leroux, and if people don't like it then it's okay."
——–
Do you think Wambach needs to win the World Cup this summer to cement her legacy? Agree with Krieger that the U.S. is in store for a big tournament?
Share your thoughts below.