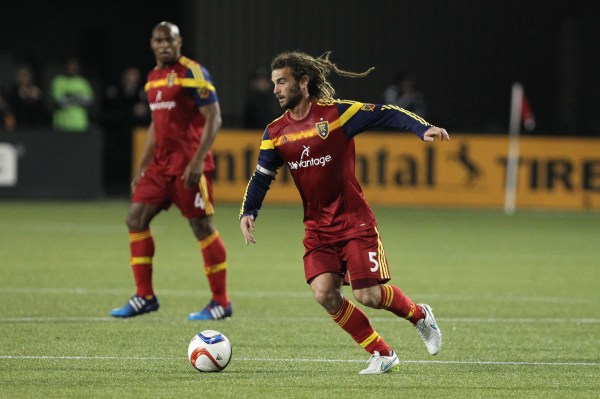 photo by Jaime Valdez/USA Today Sports
By FRANCO PANIZO
Real Salt Lake head coach Jeff Cassar is not yet ready to scrap the 4-3-3 formation just yet, but it sounds as if he will stick with his new 4-1-3-2 system for the time being.
After struggling to create quality chances for much of April and in the first game of May, Cassar moved away from the 4-3-3 setup he used to start the season and went with a 4-1-3-2 look. The switch allowed Salt Lake to get two big forwards in Devon Sandoval and Alvaro Saborio on the field at the same time, and immediately yielded positive results and performances.
RSL not only picked up four points from its two games in four days last week – including its first win in six matches – but also ended a goal-less drought that stretched over 510 minutes if you did not count an own goal that went in the club's favor.
It was all very encouraging for Cassar and his men, and is why they will likely stick with their new formation in the near future.
"I think our forwards have done a great job of holding up the ball for us, which allows our team to move up the field," Cassar told SBI of the 4-1-3-2 system. "I thought our possession has been better and with intent to get forward. Our goal isn't to out-possess a team, it's to out-possess a team with the idea of getting ourselves into scoring positions.
"That's always going to continue to be a process of getting better, but I thought we looked sound offensively and sound defensively, which is important."
Real Salt Lake started Week 10 by playing to a scoreless home draw with the reigning MLS Cup champions LA Galaxy last Wednesday. While starting goalkeeper Nick Rimando had to come up with a clutch penalty kick stop in the 92nd minute to preserve the result, RSL showed promise in the attack by putting six shots on target.
RSL traveled to Chicago three days later to take on the Fire. Salt Lake did not create as much offensively at Toyota Park, but the two shots it put on frame both found the back of the net to pace the club to a 2-1 victory.
The eight shots on target were one less than Real Salt Lake had in their previous five matches, further strengthening the case of those fans and observers who believe the club is making a mistake by disposing of its long-established 4-4-2 diamond setup.
"I think we were still pretty comfortable in the 4-3-3, but this formation just offers a little bit more options from your center forwards," midfielder Jordan Allen told SBI. "That helped us, I think, because we're a team that likes to play through our forwards, so just having that extra center forward gives us another option going forward and helps us connect a little bit better."
The improvements in the attack since moving to the 4-1-3-2 have not persuaded Cassar to push the abort button on the 4-3-3 he started the year with. Cassar believes that latter system can still be an effective one for the club on both sides of the ball, especially once Joao Plata, Javier Morales and the rest of RSL's walking wounded fully recover from their respective injuries.
"I thought we were doing a lot of good things, maybe not necessarily in the final third, but defensively we were incredibly sound and I'm very pleased with that," said Cassar. "Whereas Nicky was making 10 saves, him and (back-up goalkeeper Jeff Attinella) are making one and two big saves.
"I think we did a lot of good things in that formation, but maybe not so much in the final third."
In the meantime, it seems like the 4-1-3-2 will be the way to go for Real Salt Lake.
"We looked like we're controlling the game more and I think we can do that from both formations," said Cassar. "But having Devon and Sabo up there working hard together – being able to play into them, have them hold up, and getting the rest of our team in the right spots to play in the opponent's half – makes it easier for the rest of the team."