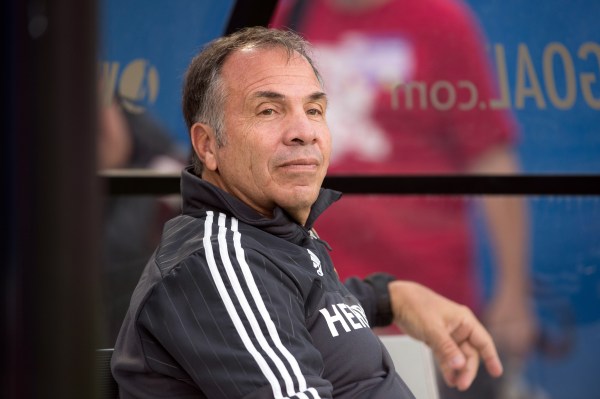 photo by Jerome Miron/USA Today Sports
By FRANCO PANIZO
The LA Galaxy may have gotten their man, but head coach Bruce Arena is not exactly happy with how things played out.
The Galaxy signed midfielder Sebastian Lletget late last week, but only after shelling out $50,000 in allocation to the New England Revolution. LA had to pay New England that amount to obtain Lletget's MLS discovery rights, which did not sit well with Arena considering he spent months trying to sign Lletget while the Revolution had no contact with Lletget and no previous ties to him.
"Discovery lists should be that you're pursuing a player and have interest in a player. You're discovering them because you want to sign them," Arena told LAGalaxy.com on Tuesday. "That should be the mechanism, but through the years teams in the league have attempted to use the rule as much as possible to hold back players from other teams.
"Now it just becomes a sped-up blackmail job. Now you get the player, but eventually, you have to pay money for it."
What seemed to upset Arena even more was that the 22-year-old Lletget had trained with the Galaxy during their preseason trip to Ireland earlier this year. Lletget was given permission by English outfit West Ham United to train with Arena's club, which contemplated signing him.
The Galaxy wound up adding Lletget to their roster eventually, but Arena thinks changes should be made to the discovery process.
"We should, in my view, be able to sign players that are outside the league," said Arena. "You discover them, you sign them. It shouldn't be an issue."
This is not the first time Arena has been critical of MLS or its process to sign players based in foreign leagues. Last summer, Arena was fined $20,000 by the league for pointed comments he made after failing to sign veteran midfielder Sacha Kljestan from Belgian side RSC Anderlecht.
Kljestan joined the New York Red Bulls this past winter.
What do you think of Arena's comments? Does he have a point? How big a fine might MLS give Arena this time?
Share your thoughts below.