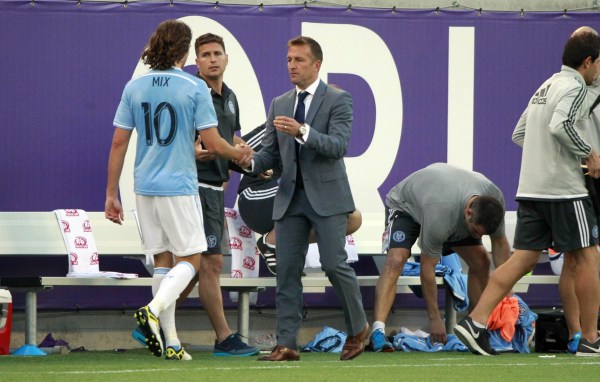 Photo by Kim Klement/USA Today Sports
By RYAN TOLMICH
Mix Diskerud's struggles were apparent to New York City FC head coach Jason Kreis.
The U.S. Men's National Team midfielder was removed in the 64th minute of Sunday's matchup with the New York Red Bulls, putting an end to a largely ineffective day. Following the eventual 2-1 loss, Kreis spoke to Diskerud's performance in Sunday's contest and his thinking behind the switch.
"I thought Mix was just not great tonight," Kreis said after the game. "I thought he was kind of in and around things and not making plays either in the attacking half or the defensive half.
"We need to recognize that we're not going to all have great games all the time, and we've got guys on the bench that we believe in, so we'll make those changes if we need to."
Here are some more NYCFC news and notes:
KREIS, GRABAVOY MAINTAIN EXPECTATIONS FOR RESULTS
The word "expectations" is not one Jason Kreis likes to use, but the head coach remains adamant that he still thinks highly of his club despite the current struggles.
Currently mired in an eight-game winless streak, Kreis says that he still believes that his team can achieve its ultimate goals, even if the road there will be a little rockier than expected.
"You use the word expectation, and if you remember early in the season and before the season started, I wasn't using that word," Kreis said. "It's not a word that I like to use, so I came into this expecting that my guys would fight hard all the time and expecting that we would look to improve week over week, and those two things have happened.
"I would say how hard I thought the job would be, how difficult I thought it would be to get points in this league, it's proven to be a little bit more difficult than I thought and I remembered back in my early days with Salt Lake."
Kreis' views were echoed by one of his former RSL players, Ned Grabavoy. A veteran with more than a decade of MLS experience, Grabavoy knows what is expected and believes that NYCFC needs to now get over its early-season expansion woes.
"It's weird because I think if you look at the first 10 games, there have been some games where we've played really, really well, but once again we haven't found results in those games," Grabavoy said. "It's difficult because I don't think we played overly well tonight, but you certainly have to find points when you play well.
"You're going to have games here and there when things aren't quite right, that's how it goes in this league with the parity that's there, and I'm looking at some of these games where we've played really well but haven't been able to find results. I think that there have been some positive stuff and certainly some stuff that we can work on, but I think we're past the point of sitting here and saying 'wow, we're a new team'. We all want to get results. It's a results business and we'll certainly be judged on that."
WINGERT REGRETS MISSED OPPORTUNITY ON OFFSIDE GOAL
Down a goal in the 20th minute, it appeared that Chris Wingert had provided the equalizer, only to see the referee rule it back for offside.
Following the game, Wingert expressed regret over the sequence, insisting that his offside position was not necessary in order to provide the finish.
"I'm so mad at myself because I thought I was on," Wingert said. "I asked my parents, but I guess I wasn't. I haven't seen the replay, and I guess I was off, but I didn't need to be off. When I looked at it, I thought I was on, but I'm sure I was off and I didn't need to be. I still would have gotten to the ball, so I should have just overplayed it by a half a yard and I still would have gotten there and what a big goal it would have been for us.
"So yeah, I'm really disappointed in myself that I didn't overdo it. At the time, you don't think like that. I'm just thinking I'm even with the guy, but I guess I wasn't."
Following the loss and frustration that comes with seeing a potential game-tying goal ruled out, Wingert is looking forward to getting back on the field Friday against the Chicago Fire, an opponent that has already defeated NYCFC this season.
"I want to play right away," Wingert said. "Enough time to get everybody healthy, for sure, but I'm ready to play and get this bad taste out of my mouth and score a goal that actually counts and just get out there and help the team try and win a big game, because at this point, every game is a big one for us.
"I really didn't think that we played too well tonight, so we'll go over our mistakes and try to rectify them and get back out there and have a better performance on Friday."
KREIS PRAISES YOUNG PLAYERS
While the results, and goals, may not be coming, Jason Kreis is still finding positives in the play of two of his young forwards.
Patrick Mullins scored his second goal of the season on Sunday, coming off the bench to provide a much-needed spark to try and shift the game into NYCFC's favor. Meanwhile, rookie Khiry Shelton proved to be a handful all night long, constantly threatening with his athleticism, leaping ability and speed.
Kreis was quick to praise the duo for their performances on Sunday, but also admitted that Shelton in particular has plenty of room to grow as the team continued to adjust to one another.
"Patrick has been a guy for me that, every time he plays, he gives everything he has, and that's appreciated," Kreis said. "Quite frankly, I think we need more guys that are wiling to give you everything they have. He makes intelligent runs to get behind the back four and he's on the end of things, now with two goals."
"Khiry is a player that can be really electric and I think the potential for him is extremely high still, but I don't think he's anywhere near the finished product. He's still making mistakes, more mistakes than he ought to, but that comes with being a first-year player. We recognize that there's a big future in front of him and development for him is key."
Another player that earned Kreis' praises was fullback R.J. Allen, who proved threatening down the sidelines in a second half that saw NYCFC throw numbers forward. Despite having troubles with Lloyd Sam throughout the evening, Kreis saw positives in Allen's play and will continue to look to hang his hat on some of the team's better performances.
"I thought R.J. had a good performance. He got forward well and showed that he was fit to get up and down the line for 90 minutes which wasn't an easy task tonight," Kreis said. "His performance was positive.
"I think there were a few other individuals who came in and brought something for us and I will continue to try and take every ounce of positivity that I can and keep moving the group forward. At some point, a bounce or two will go our way."