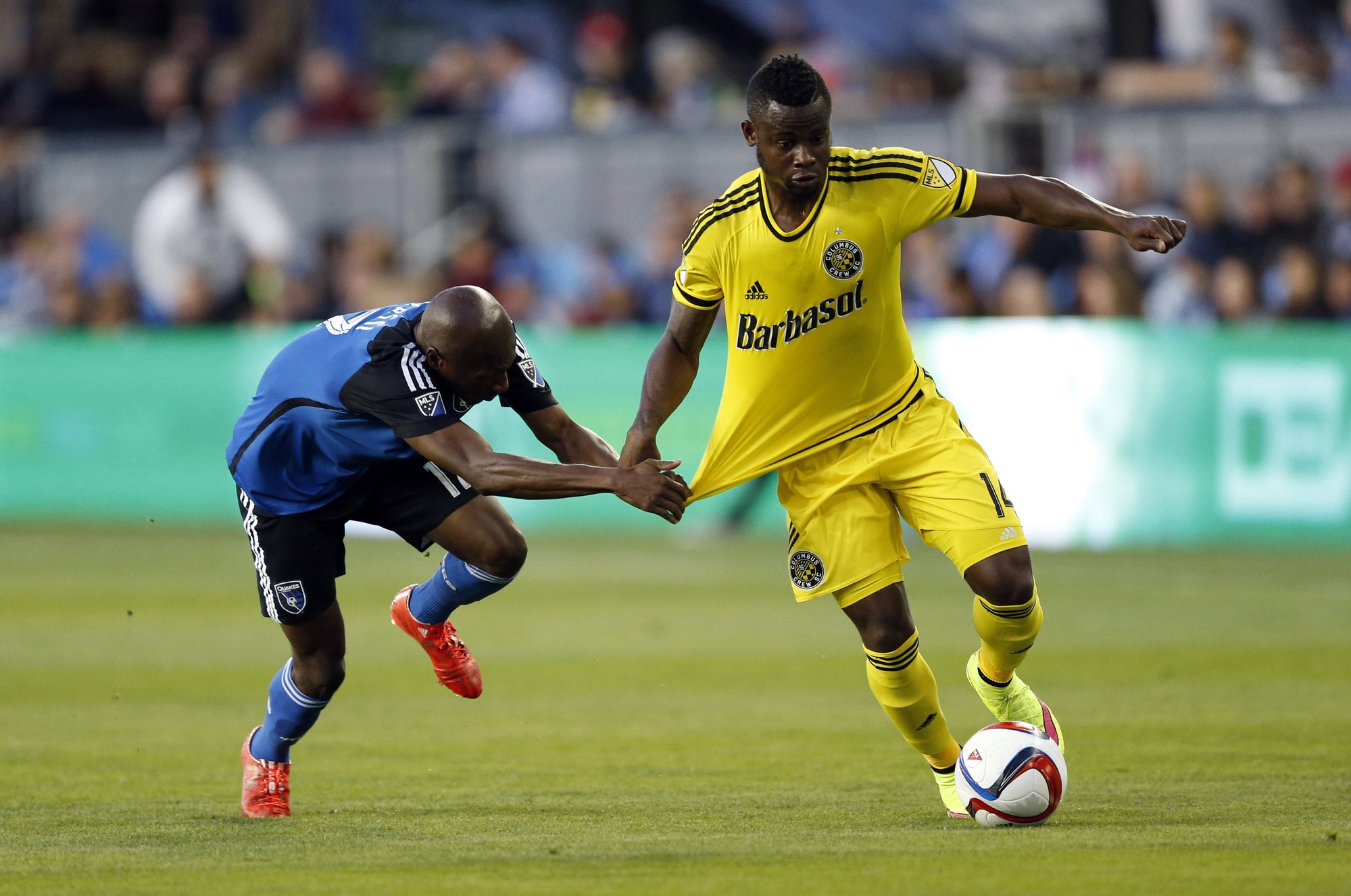 By ADAM TROXTELL
Fans at Avaya Stadium witnessed something they hadn't seen since the venue opened this season: a Chris Wondolowski goal.
Wondolowski's 99th career strike — and first tally in the new stadium — provided the San Jose Earthquakes with the lift they needed in a 2-0 victory against the Columbus Crew. Shea Salinas added another goal on the back of that momentum, while the Crew struggled down a man after Mohammed Saeid earned a second yellow card just 33 minutes into the game.
The sending off turned the tide of the match, which had been fairly even up to that point. Fresh from a win behind a strong attacking performance last weekend, the Crew were lively early and forced San Jose goalkeeper David Bingham into a few saves.
Down a man, the Crew began to wilt. While they held on for the rest of the first half, they were unable to stop Wondolowski from powerfully heading in left back Jordan Stewart's laser cross for the breakthrough in the 55th minute.
Wondolowski had already come close when both teams were at full strength. Mid-way through the first half, Crew goalkeeper Steve Clark produced a save that deflected right into the American striker's path. Only a last-minute intervention from Michael Parkhurst kept the game scoreless.
Bingham was also active at the other end with Kei Kamara prowling around the Earthquakes' goal. The striker combined with Federico Higuain in the 33rd minute, sending the Argentine through down the right only to see his shot deflected away by the goalkeeper.
Soon after, tragedy struck for the Crew with Saeid's red card when he fouled Matias Perez Garcia hard near midfield. It was all Earthquakes from there. Just before halftime, Salinas provided Perez Garcia with a ball down the center, but the low shot was saved by Clark as the teams went into halftime level.
Following the Wondolowski goal, Salinas had another chance to score when the ball was centered right to the winger's feet. He sent it sky-ward, but the Earthquakes didn't have to wait much longer to double their advantage.
Again, Salinas and Perez Garcia combined, only this time it was the latter setting up the former with a nice give and go. Salinas took a touch to just outside the six-yard box before firing a shot into the roof of the net in the 60th minute.
The Earthquakes are yet to lose in May with two wins and two draws. Orlando City next pays a visit to Avaya next Sunday, while the Crew host Chicago this Friday.