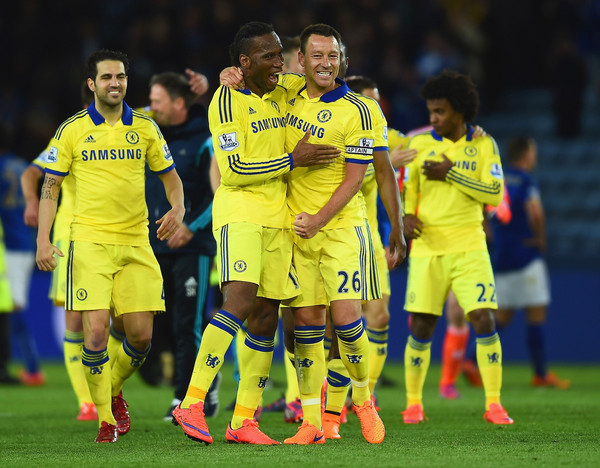 By AYDIN REHYAN
As the European seasons come to a close, the domestic title chases continue to hear up.
In England, Chelsea can clinch the title with a win over Crystal Palace at home to seal the clubs first Premier League crown since 2009-10.
Meanwhile, in Italy, Juventus will need just a draw against Sampdoria to lock up their fourth straight Serie A title.
Spanish club Sevilla can make life difficult for Real Madrid if they defeat the reigning Champions League winners at home, allowing Barcelona to perhaps jump five points ahead atop of La Liga.
Here is what the schedule looks like in Europe's top leagues this weekend:
ENGLAND
Chelsea can clinch the Premier League crown this weekend with three points at home against Crystal Palace. The Blues need just one win in their final four games to lock up their first title in five season.s
Tottenham's meeting withManchester City will be one to watch this weekend in the EPL as the reigning champs hope to keep themselves in second. Meanwhile, the hosts look to jump into fifth or stay in sixth at the very worst with Southampton right behind them with 57 points.
Leicester City is only one point out of the relegation zone so their game against Newcastle is of utter importance. If they lose and Sunderland defeats Southampton at home, they will be in danger of the drop zone.
Here is what the Premier League brings us this weekend:
Leicester City-Newcastle
Aston Villa-Everton
Liverpool-QPR
Sunderland-Southampton
Swansea-Stoke
West Ham-Burnley
Man United-West Brom
Chelsea-Crystal Palace
Tottenham-Man City
Hull-Arsenal
SPAIN
Barcelona visit the worst team in La Liga, Cordoba, looking to win while hoping Real Madrid loses at Sevilla for a five-point league-topping lead.
Valencia will host Eibar with the hopes of a victory paired with a Sevilla loss. Those results will allow Valencia to solely possess fourth by three points while also maintaining a superior position against Sevilla due to head-to-head goal differential.
Here is the La Liga schedule this weekend:
Sociedad-Levante
Cordoba-Barcelona
Atletico Madrid-Bilbao
Sevilla-Real Madrid
Deportivo-Villarreal
Espanyol-Rayo
Getafe-Granada
Valencia-Eibar
Malaga-Elche
Almeria-Celta Vigo
GERMANY
Bayer Leverkusen will look to avenge their quarterfinal defeat in the DFB Pokal at the hands of Bayern Munich when they host the Bundesliga champs this weekend. With a win comes bragging rights along with a potential automatic UCL spot.
Paderborn could jump out of the relegation zone to overlap Freiburg with a win away from home.
Stuttgart can jump out of the drop zone themselves if they can manage an upset at Schalke. However, the hsots need the win oi make sure they finish in fifth ahead of Augsburg who is level on points with them at 42 but ahead on goal-differential.
Here are the games the Bundesliga brings us this weekend:
Augsburg-Koln
Freiburg-Paderborn
Hoffenheim-Dortmund
Schalke-Stuttgart
Werder Bremen-Frankfurt
Wolfsburg-Hannover
Leverkusen-Munich
Mainz-Hamburg
Berlin-Moenchengladbach
ITALY
Heading into this weekend's meeting wit Sampdoria, Juventus needs to snag just a single point to lock up the Serie A crown.
Udinese is two points behind Hellas Verona and has the chance to overlap them by one into 13th with a win on the road. With Luca Toni leading the front line of the hosts, this one will not be easy for the visitors.
Fiorentina could jump into fifth with a win over Cesena who are in the drop zone themselves.
Here is what the schedule looks like in the Serie A this weekend:
Sampdoria-Juve
Sassuolo-Palermo
Roma-Genoa
Atalanta-Lazio
Fiorentina-Cesena
Hellas Verona-Udinese
Inter-Chievo
Napoli-AC Milan
Cagliari-Parma
FRANCE
Marseille looks to stop their bad run of form when they visit Metz. They were contenders for the Ligue 1 title some weeks ago but now are fighting for 4th or 5th. Marcelo Bielsa needs to play it a bit safe if he wants to see his side in Europe next season.
Saint Etiene can overlap Monaco into third with a win at Bastia this weekend. Max-Alain Gradel has been sensational for the side this season, so we can expect him to be a target or even a playmaker as usual.
Here is what Ligue 1 looks like this weekend:
Metz-Marseille
Lyon-Evian
Bastia-Saint Etienne
Guingamp-Reims
Lorient-Bordeaux
Montpellier-Rennes
Nice-Caen
Lille-Lens
Monaco-Toulouse
Nantes-PSG