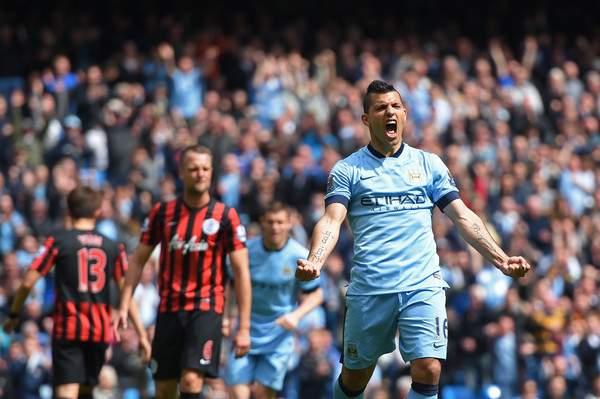 By AYDIN REYHAN
With the domestic leagues coming to a close, several teams continue to put a positive spin on seasons end while others approach the ever-fearful prospect of relegation.
This weekend brought to light some sour news in the EPL as Queens Park Rangers was officially relegated after a 6-0 thrashing at the Etihad by Manchester City. The team was down 2-0 at halftime which is all it took to dampen their confidence. The defense was left in shambles as Sergio Aguero was able to complete yet another hat-trick for the Blue side of Manchester. Alexander Kolarov, James Milner and David Silva were the remaining scorers.
Real Madrid was down 2-0 early on at home against Valencia. Cristiano Ronaldo saw his 45th-minute penalty saved by keeper Diego Alves who managed his 16th-ever penalty-save in his career in La Liga. Pepe and Isco would peg the reigning European champs back into the game, but some other clutch Alves saves kept this one a draw.
Here is what happened in Europe's top five leagues this weekend:
ENGLAND
Chelsea was outplayed by Liverpool thanks to Jose Mourinho's defensive choice of tactics as the match ended in a 1-1 draw. John Terry headed the home side in front before Steven Gerrard headed back at the brink of halftime. The Reds are six points out of a UCL spot and well behind Man United on goal-differential.
Tottenham is still in 6th (Europa League playoff spot) after they and Southampton both lost against Stoke City and Leicester City respectively. Southampton is still a point behind in seventh.
Daniel Graham and Jermain Defoe both struck at Everton for a 2-0 Sunderland win, therefore allowing the club to jump two points clear of the bottom-three.
Here is what occurred in the EPL this weekend:
Everton 0-2 Sunderland
Villa 1-0 West Ham
Hull 0-1 Burnley
Leicester 2-0 Southampton
Newcastle 1-1 West Brom
Stoke 3-0 Tottenham
Palace 1-2 Man United
Man City 6-0 QPR
Chelsea 1-1 Liverpool
Arsenal-Swansea (Monday)
SPAIN
Barcelona is now four points clear atop the standings after they defeated Real Sociedad, 2-0, then watched Valencia grab a point at the Bernabeu against Real Madrid. With two games remaining, Barca would have to lose once then draw another while Real would need six points to clinch the title on the final day.
Sevilla is still three points shy of fourth-placed Valencia after their 1-1 draw at Celta Vigo. That spot is the last one for any chance of Champions League soccer. They have two more games to try and overlap Valencia.
Here are the scores from La Liga this weekend:
Eibar 0-2 Espanyol
Granada 2-0 Cordoba
Barcelona 2-0 Real Sociedad
Real Madrid 2-2 Valencia
Bilbao 1-1 Deportivo
Levante 2-2 Atletico
Villarreal 1-0 Elche
Almeria 1-2 Malaga
Celta 1-1 Sevilla
Rayo-Getafe (Monday)
GERMANY
Augsburg managed to jump into fifth ahead of Schalke as they were 1-0 winners at champions Bayern Munich. Schalke is a point behind in 6th after they dropped all three points in a 2-0 loss at Cologne.
Borussia Dortmund is only two points out of Schalke's Europa League spot with 45.
As of right now, no team is officially relegated to the second Bundesliga as bottom Stuttgart has 30, 17th Paderborn has 31 and Hannover also has 31. 14th Hamburg has 32 and 15th Freiburg has 31. The final two weeks will determine each club's fate.
Here are the scores from this weekend's edition of the Bundesliga:
Hamburg 1-1 Freiburg
Munich 0-1 Augsburg
Dortmund 2-0 Berlin
Moenchengladbach 3-0 Leverkusen
Frankfurt 3-1 Hoffenheim
Hannover 1-1 Bremen
Stuttgart 2-0 Mainz
Paderborn 1-3 Wolfsburg
Cologne 2-0 Schalke
ITALY
Hernanes scored a brace for Inter at the club he arrived from, Lazio, in a 2-1 win. Scoring once was perhaps bruising for the home fans and club, but the second,also being the winner, proved to be the knockout.
Josip Ilicic hit a brace in Fiorentina's 3-2 win at Empoli to stay fifth, just one point ahead of Sampdoria, who grabbed all three points at Udinese in a 4-1 win.
Genoa could drop to 9th Monday as they host the side that occupies that position, Torino, in what is expected to be a tough curtain-closer for week 35.
Here are all of the scores from the Serie A games that have been played this weekend:
Juve 1-1 Cagliari
AC Milan 2-1 Roma
Chievo 2-2 Hellas Verona
Cesena 2-3 Sassuolo
Palermo 2-3 Atalanta
Udinese 1-4 Sampdoria
Empoli 2-3 Fiorentina
Parma 2-2 Napoli
Lazio 1-2 Inter
Genoa-Torino (Monday)
FRANCE
PSG is six points clear at the summit of Ligue 1 after a 6-0 thrashing over Guingamp occurred before second-placed Lyon was humbled, 3-0, at Caen. With two weeks remaining in the season, and a +7 goal-differential, PSG all but has the title in the bag.
Saint Etienne is only two points out of Monaco's third in the standings with 63 after their 5-0 thumping over Nice.
Marseille is in fourth with the same amount of points when they left it late to complete a comeback win by a 2-1 scoreline. The goals arrived in the 79th and 87th minute courtesy of Andrew Ayew and Romain Alessandrini.
Here are the scores from Ligue 1 this weekend:
PSG 6-0 Guimgamp
Caen 3-0 Lyon
Bordeaux 2-1 Nantes
Evian 2-3 Reims
Metz 0-4 Lorient
Rennes 0-1 Bastia
Toulouse 3-2 Lille
Lens 0-1 Montpellier
Saint Etienne 5-0 Nice
Marseille 2-1 Monaco