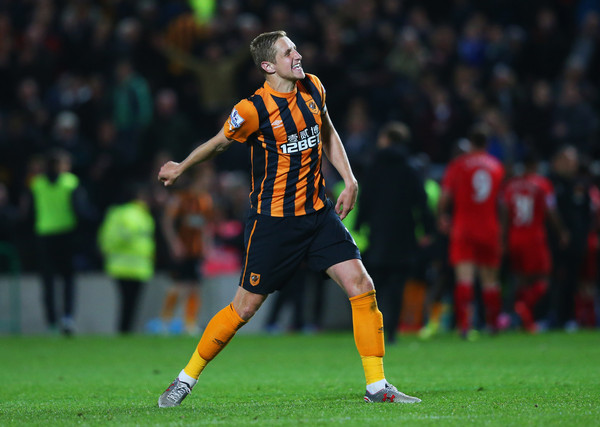 By AYDIN REYHAN
Domestic action comes to a halt for the 2014-2015 season in England, Spain, Germany and France this weekend, signaling the final stand for those teams in danger of relegation.
In the English Premier League, with the top of the table already determined, the focus moves to action at the bottom of the table, with Hull City and Newcastle both in danger of relegation. Hull City hosts Manchester United and Newcastle hosts West Ham United, both on Sunday.
La Liga will see another battle of who stays in the top flight as Eibar and Almeria are both just two points behind Granada and Deportivo in the relegation battle. Eibar hosts bottom-team Cordoba while Almeria hosts Valencia, who could use a result to hold off Sevilla for a Champions League spot.
Finally in Germany, the battle for second place and the battle for relegation are the two main courses of this weekend's action, with six teams all battling to stay out of relegation and Borussia Mönchengladbach fighting to hold onto second place.
Here is what is happening in Europe's top five leagues this weekend:
ENGLISH PREMIER LEAGUE
Hull City needs a win to remain in the top flight. Two points behind Newcastle, Hull City will need to defeat Manchester United, while hoping for a Newcastle loss or draw to West Ham.
Tottenham and Liverpool are still battling for fifth place, and a Europa League berth, as Tottenham visits Everton while Liverpool travels to the Britannia to take on at Stoke City.
Southampton visits Man City in a game with second place guaranteed for the hosts. As for the visitors, they have 60 points and a chance to jump into fifth or sixth place ahead of Liverpool and Tottenham for a place in next season's Europa League.
Here are the fixtures in the final week of play this season in the EPL:
Arsenal-West Brom
Villa-Burnley
Chelsea-Sunderland
Palace-Swansea
Everton-Tottenham
Hull-Man United
Leicester-QPR
Man City-Southampton
Newcastle-West Ham
Stoke-Liverpool
LA LIGA
In the La Liga goalscoring race, Cristiano Ronaldo has 45 goals opposed to Lionel Messi's 41. Being four ahead and having a final match at home against Getafe, CR7 should comfortably win the Pichichi, given to the league's top scorer. The award will prove to be the biggest honor given to Real Madrid, given the club's trophy-less campaign.
While both Real Madrid, Barcelona and Atletico Madrid have locked up Champions League spots, Valencia will look to do the same with a result against Almeria. Up a point on Sevilla while maintaining the head-to-head tiebreaker, a victory will lock up the spot, while a draw or loss opens the door for Sevilla to jump into the top four.
Here are the closing fixtures in La Liga this season:
Levante-Elche
Almeria-Valencia
Bilbao-Villarreal
Barcelona-Deportivo
Celta Vigo-Espanyol
Eibar-Cordoba
Granada-Atletico
Malaga-Sevilla
Rayo-Sociedad
Real Madrid-Getafe
BUNDESLIGA
Relegation is the main topic of discussion as 14th to 18th place in the standings are still no guarantee heading into the final weekend. Freiburg and Hannover are in 14th and 15th respectively with 34 points while Stuttgart (33), Hamburg (32) and Paderborn (31) are all behind them in relegation.
Hannover hosts Freiburg while Paderborn welcomes Stuttgart and Hamburg faces a tough test in a home matchup with Schalke.
Wolfsburg (second with 68 points) visits Koln while Moenchengladbach (third with 66) hosts Augsburg, making second  very much up for grabs.
Here is the final list of fixtures as this season's Bundesliga comes to a close:
Bayern-Mainz
Dortmund-Bremen
Moenchengladbach-Augsburg
Frankfurt-Leverkusen
Koln-Wolfsburg
Hamburg-Schalke
Hannover-Freiburg
Hoffenheim-Hertha Berlin
Paderborn-Stuttgart
SERIE A
Juventus, the Serie A champions, will close the season out at home against Napoli just days after hoisting the Copa Italia trophy against Lazio in a 2-1 victory. Napoli could have overlapped Lazio into third if they had not allowed 13 more goals than the capital-based squad.
Sampdoria can still finish in sixth ahead of Genoa which as they look for a Europa League playoff spot. Sampdoria visits Empoli while Genoa hosts Inter Milan.
Lazio will host Roma in what should give us a better idea of who finishes second, as Roma maintains 67 points whereas Lazio sits on 66. The Blue side of the capital just lost on Wednesday against Juve in the Copa Italia finale.
Here are the fixtures for the second-to-last week of Serie A action this season:
Juventus-Napoli
Genoa-Inter
Empoli-Sampdoria
Cesena-Cagliari
Chievo-Atalanta
Palermo-Fiorentina
Parma-Hellas Verona
Udinese-Sassuolo
AC Milan-Torino
Lazio-Roma
LIGUE 1
PSG is already the champion while Lyon is going to finish second. However, anything can still happen in third place, a Champions League playoff spot. Monaco currently sits third with 68 points while Marseille and Saint-Etienne sit fourth and fifth on 66 points.
Marseille hosts Bastia, Saint-Etienne hosts Guingamp and Monaco visits Lorient. The fourth and fifth-placed sides are at home whereas the third-placed occupant is on the road with a tricky assignment.
Here are the final fixtures of the 2014-2015 Ligue 1 season:
Bordeaux-Montpellier
Caen-Evian
Lens-Nantes
Lorient-Monaco
Marseille-Bastia
Metz-Lille
PSG-Reims
Rennes-Lyon
Saint-Etienne-Guingamp
Toulouse-Nice