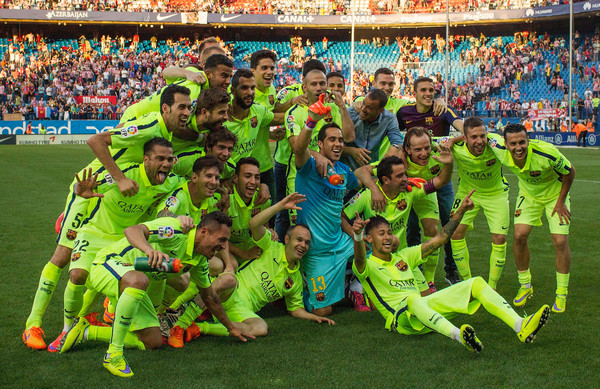 By AYDIN REYHAN
Two more domestic champions were crowned in Europe, with Paris Saint-Germain and Barcelona each claiming league crowns.
Barcelona defeated Atletico Madrid on the road thanks to a sweet strike from Lionel Messi to win their 23rd La Liga title and the club's second crown in three seasons.
PSG were 2-1 victors at Montpellier to guarantee their third-straight Ligue 1 title with a game to spare.
Meanwhile in England, second is looking tough for Arsenal after the Gunners were forced to settle for a 1-1 draw at Old Trafford against Manchester United.
Here is everything that happened in Europe's top five leagues:
PREMIER LEAGUE
Manchester City deflated Swansea, 4-2, on the road just days after the hosts were 1-0 winners in London against Arsenal. Yaya Toure hit home a brace to make a statement just a month before he is expected to leave the Etihad.
Liverpool lost, 3-1, at home against Crystal Palace in the game that was Steven Gerrard's farewell to Anfield before departing to the Los Angeles Galaxy this summer.
Sadio Mane scored the fastest hat-trick of goals inside two minutes and 56 seconds in Southampton's 6-1 win against Aston Villa at home.
Here are the scores from the EPL this weekend:
Southampton 6-1 Villa
Burnley 0-0 Stoke
QPR 2-1 Newcastle
Sunderland 0-0 Leicester
Tottenham 2-0 Hull
West Ham 1-2 Everton
Liverpool 1-3 Palace
Swansea 2-4 Man City
Man United 1-1 Arsenal
LA LIGA
In need of a result to capture the league, Lionel Messi once again proved hero, leading Barcelona to yet another La Liga triumph with a 1-0 victory over Atletico Madrid. The Argentine's finish came in the 65ht minute, sealing the title for Barcelona while ending Real Madrid's hopes of a second-straight league crown.
Real Madrid did their job by thumping Espanyol on the road, 4-1, thanks to a hat-trick from Cristiano Ronaldo and an assist to Marcelo. The Portuguese star leads La Liga with the most goals scored with 45.
Granada blanked Real Sociedad away from home by a score of 3-0 to storm out of the relegation zone with 34 points. With a game at home looming next weekend, Granada has given itself a chance to remain in La Liga.
Sevilla is now only a point out of fourth — the final UCL spot — with a game left after defeating Almeria at home, 2-1.
Here are the scores from La Liga this weekend:
Atletico Madrid 0-1 Barca
Cordoba 1-2 Rayo
Deportivo 2-0 Levante
Elche 2-3 Bilbao
Getafe 1-1 Eibar
Sociedad 0-3 Granada
Sevilla 2-1 Almeria
Valencia 1-1 Vigo
Villarreal 2-1 Malaga
BUNDESLIGA
Wolfsburg stays second after downing Dortmund at home, 2-1. Dortmund now has to win their final game of the season and hope that Augsburg loses big in order to snag the latter's Europa League playoff spot.
Freiburg jumped out of the bottom-three by defeating Bayern Munich at home, 2-1. The loss is just the latest of Bayern's struggles, as the club has now lost five of its last six games in all competitions.
Stuttgart is now one point out of relegation after defeating fellow bottom-side Hamburg at home by a 2-1 scoreline.
Here are the scores from the Bundesliga this weekend:
Augsburg 1-2 Hannover
Leverkusen 2-0 Hoffenheim
Freiburg 2-1 Bayern
Berlin 0-0 Frankfurt
Mainz 2-0 Koln
Schalke 1-0 Paderborn
Stuttgart 2-1 Hamburg
Wolfsburg 2-1 Dortmund
Bremen 0-2 Moenchengladbach
SERIE A
Inter outplayed champs Juventus at home but were outscored 2-1 on the night. Therefore, a spot on Europe is looking unlikely with a couple of games to remaining.
Genoa came from one down to win, 4-1, at Atalanta, jumping into fifth temporarily, which would see the club claim a Europa League spot
AC Milan lost, 3-2, at Sassuolo, therefore giving up any hope of a European spot as they sit in 11th with 46 points.
Here are the scores from Serie A this weekend:
Inter 1-2 Juve
Sampdoria 0-1 Lazio
Sassuolo 3-2 AC Milan
Atalanta 1-4 Genoa
Cagliari 0-1 Palermo
Hellas Verona 2-1 Empoli
Torino 2-0 Chievo
Roma 2-1 Udinese
Fiorentina-Parma (Monday)
Napoli-Cesena (Monday)
LIGUE 1
Led by goals from Blaise Matuidi and Ezequiel Lavezzi, Paris Saint-Germain is once again champion of France.
Matuidi and Lavezzi provided goals in the 17th and 25th minutes, cancelling out a finish from Montpellier's Anthony Mounier to give PSG a 2-1 victory and the Ligue 1 title.
Lyon tied 1-1 at home with Bordeaux, giving up any chance they had at catching PSG in first, but did guarantee second with a game to spare.
Marseille and Saint Etienne both won on the road against Lille (4-0) and Evian (2-1) respectively as they now sit in fourth and fifth in that order with 66 points each. With next week's match being the finale, both are bound for Europa League playoff spots.
Evian, Metz and Lens have all being relegated to the second French division next season.
Here are the scores from Ligue 1 this weekend:
Monaco 2 – 0 Metz
Bastia 1 – 1 Caen
Evian 1 – 2 Saint-Etienne
Guingamp 2 – 1 Toulouse
Lille 0 – 4 Marseille
Lyon 1 – 1 Bordeaux
Montpellier 1 – 2 Paris Saint-Germain
Nantes 1 – 1 Lorient
Nice 2 – 1 Lens
Stade de Reims 1 – 0 Stade Rennes