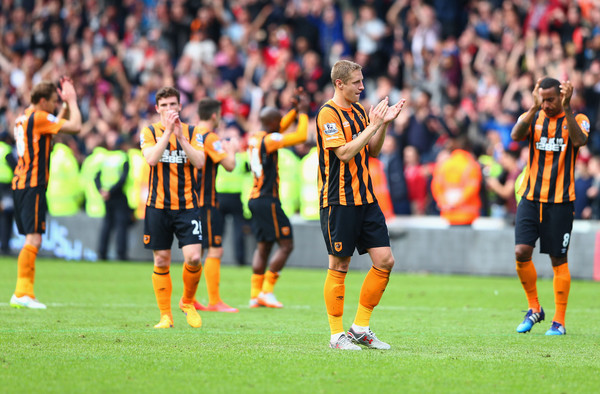 By AYDIN REYHAN
With the ends of their domestic seasons, the relegation battle has come to an end for teams across Europe.
Hull City found themselves victims of the drop on Sunday after failing to pick up a victory against Manchester United. With the draw, Hull City are relegated to the Championship while Newcastle United remain safe in the Premier League.
Meanwhile, in Spain, Valencia's quest for the Champions League proved successful with a win over Almeria.
Lets take a deeper look at all five leagues in the final week of their respective seasons.
PREMIER LEAGUE
Chelsea not only won the league title but their best player, Eden Hazard, won the Premier League Player of the Year award. Meanwhile, club legend Didier Drogba was carried off the field in what was his final game for the club, a 3-1 victory over Sunderland.
Manchester City finished second which is a guaranteed UCL group stage place, while Arsenal locked up the third spot in the league with a dominant win over West Brom.
Steven Gerrard's Liverpool career came to a close in the worst possible fashion Sunday as the Reds were throughly embarrassed, 6-1, against Stoke City with Gerrard scoring the lone Liverpool goal.
Here are the scores from the last weekend in the EPL this season:
Arsenal 4-1 West Brom
Villa 0-1 Burnley
Chelsea 3-1 Sunderland
Palace 1-0 Swansea
Everton 0-1 Tottenham
Hull 0-0 Man United
Leicester 5-1 QPR
Man City 2-0 Southampton
Newcastle 2-0 West Ham
Stoke 6-1 Liverpool
LA LIGA
Valencia locked up a spot in the Champions League playoff with a victory over Almeria. Coming from behind twice, Valencia's clinching goal was scored by Paco Alcacer, dooming Almeria to relegation alongside Eibar and Cordoba.
Deportivo looked destined to be among those relegated, but snatched a 2-2 comeback draw against Barcelona to seal safety in what was Xavi's final game.
Cristiano Ronaldo won the Golden Shoe award in Spain by scoring 48 goals and assisting his teammates on 16 occasions. He scored a hat-trick of beauties in the 7-3 victory against Getafe at the Santiago Bernabeu, as Real Madrid finished second behind champions Barcelona. The only stat Ronaldo aced Lionel Messi in was by scoring five more goals.
Here are the scores from the final weekend in La Liga:
Levante 0-0 Elche
Almeria 2-3 Valencia
Bilbao 4-0 Villarreal
Barcelona 2-2 Deportivo
Vigo 3-2 Espanyol
Eibar 3-0 Cordoba
Granada 0-0 Atletico
Malaga 2-3 Sevilla
Rayo 2-4 Sociedad
Real Madrid 7-3 Getafe
BUNDESLIGA
Bayern Munich is champion once again as Wolfsburg finished right behind them. Moenchengladbach lost 3-1 at home to Augsburg which is why they finished three points shy of the Wolves. These three are guaranteed to be in the groups of the UCL next season.
Bayer Leverkusen finished in fourth, which means they will participate in a UCL playoff series in August.
Freiburg and Paderborn are relegated with Hamburg waiting to play a playoff to stay top for the second season in a row. This time around they will face Karlsruher SC for the right to remain in the league
Here are the final results from the Bundesliga this season:
Dortmund 3-2 Bremen
Moenchengladbach 1-3 Augsburg
Frankfurt 2-1 Leverkusen
Koln 2-2 Wolfsburg
Hamburg 2-0 Schalke
Hannover 2-1 Freiburg
Hoffenheim 2-1 Berlin
Paderborn 1-2 Stuttgart
Bayern 2-0 Mainz
SERIE A
Juventus are champions yet again in Serie A, just weeks before playing in the UCL final against Barcelona. Lazio and Roma will face off in the capital to determine who ends up finishing in second, at least for this week before next week's final round of matches.
AC Milan helped add some positives to the end of a disappointing season with a 3-0 victory over Torino, while Inter Milan fell to Genoa 3-2.
Here are the results thus far in the Serie A in the second-to-last round of matches:
Juve 3-1 Napoli
Genoa 3-2 Inter
Empoli 1-1 Sampdoria
Cesena 0-1 Cagliari
Pamerlo 2-3 Fiorentina
Parma 2-2 Hellas Verona
Udinese 0-1 Sassuolo
Chievo 1-1 Atalanta
AC Milan 3-0 Torino
Lazio-Roma (Monday)
LIGUE 1
PSG is champion yet again as they beat Lyon by eight points in the standings.
Max-Alain Gradel scored a brace in Saint-Etienne's 2-1 win over Guingamp to guarantee fifth place and bring his tally up to 17 goals in 31 games this season. He is only 27, so a transfer to a bigger club in Ligue 1 or even outside of the country is not out of the question.
Marseille finished third level on points with Saint-Etienne but had a +13 goal differential in their favor. Monaco finished third just two points ahead of them both thanks to a 1-0 win at Lorient. They will play in a UCL playoff series in August.
Here are the final round of results in Ligue 1 this season:
Bordeaux 2-1 Montpellier
Caen 3-2 Evian
Lens 1-0 Nantes
Lorient 0-1 Monaco
Marseille 3-0 Bastia
Metz 1-4 Lille
PSG 3-2 Reims
Rennes 0-1 Lyon
Saint-Etienne 2-1 Guingamp
Toulouse 2-3 Nice