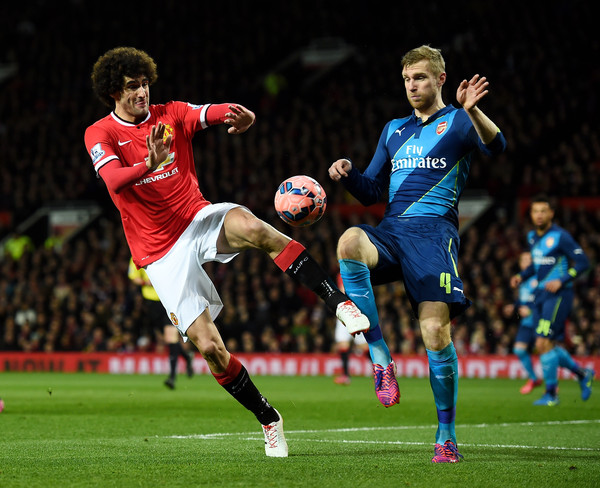 BY AYDIN REYHAN
Domestic European league action continues this weekend after the finalists of the UEFA Champions League and UEFA Europa League were revealed earlier this week.
The biggest match-up of the weekend is between Manchester United and Arsenal, two teams competing for third place in the English Premier League standings. A win for Louis Van Gaal's side would leap-frog them past Arsenal, while a win for Arsene Wenger's club would surely assure them of third place and have them on the precipice of second place in the league.
Real Madrid looks to overcome their UCL semifinal elimination against Juventus when they travel to Barcelona to face RCD Espanyol, hoping to cut Barca's four-point lead at the top of La Liga down to one.
Although Serie A has already been decided, Inter Milan welcomes champions Juventus to the San Siro to try and gain an advantage over their northern rivals as Juve focuses on the Coppa Italia and Champions League. In Germany, second-place Wolfsburg hosts rising Borussia Dortmund, who are unbeaten in their last four games.
Here is what is going on in Europe's top five leagues this weekend:
ENGLAND
Manchester United hosts Arsenal in a game where they hope to overlap the Gunners into third place which is a guaranteed UCL group stage position. Arsenal does have a game in hand, but this could still be a huge step for the Red Devils.
Swansea City is coming off a huge win at Arsenal thanks to the header by Bafatimbi Gomis which led to the 1-0 scoreline inside the Emirates. Now, they could do the Gunners a favor by defeating Manchester City (who occupies second in the standings) at home this weekend. No one should look past them as they have what it takes — a brilliant coach and talented players — to get the job done.
Everton could catch West Ham in tenth when they visit the London-based side on Saturday, while Sunderland hosts Leicester in a game both sides will want to win to pull even further away from the relegation zone as the visitors have 37 points whereas the hosts have 36.
Here is the schedule for the EPL this weekend:
Saturday:
Southampton vs. Aston Villa
Burnley vs. Stoke City
Queens Park Rangers vs. Newcastle United
Sunderland vs. Leicester Ciety
Tottenham vs. Hull City
West Ham United vs. Everton
Liverpool vs. Crystal Palace
Sunday:
Swansea City vs. Manchester City
Man United-Arsenal
Monday:
West Brom-Chelsea
—–
SPAIN
Atletico Madrid plays host to Barcelona in what is expected to be the visitor's toughest remaining game domestically. To make matters worse, they will be without Luis Suarez who will miss with a hamstring injury. This advantage should prove to make the match a bit easier for the Atletico Madrid. If they do win, and Real Madrid wins at Espanyol, the deficit at the top of La Liga will drop to one.
Sevilla is coming off of a 5-0 aggregate victory over Fiorentina to make their second-straight Europa League final and this weekend they host Almeria. Sevilla are three points behind Valencia but also -13 in goal-differential so if they both win, they will still have a long road to climb.
Here is the schedule for La Liga this weekend:
Sunday:
Atletico Madrid vs. Barcelona
Cordoba vs. Rayo Vallecano
Deportivo La Coruña vs. Levante UD
Elche vs. Athletic Bilbao
Espanyol vs. Real Madrid
Getafe vs. Eibar
Real Sociedad vs. Granada
Sevilla vs. Almeria
Valencia vs. Celta Vigo
Villarreal vs. Malaga CF
——-
GERMANY 
Borussia Dortmund travels to Wolfsburg looking for the win so they could rise into fifth or sixth for a spot in the Europa League groups or playoffs, respectively. The hosts need the win just in case Borussia Mönchendgladbach wins on the road against Werder Bremen as Mönchengladbach are only two points behind in third place.
Hamburg and Freiburg could drop into the relegation zone if VfB Stuttgart, Paderborn, and Hannover 96 all get wins this weekend as the race to avoid the drop becomes even more dramatic. Stuttgart actually hosts Hamburg in what could very well determine who is relegated and who remains in the Bundesliga.
Here is the schedule for the Bundesliga this weekend:
Saturday:
SC Freiburg vs. Bayern Munich
Augsburg vs. Hannover 96
Bayer Leverkusen vs. 1899 Hoffenheim
Hertha Berlin vs. Eintracht Frankfurt
Mainz vs. FC Cologne
FC Schalke vs. Paderborn
Stuttgart vs. Hamburg
Werder Bremen vs. Borussia Mönchengladbach
Wolfsburg vs. Borussia Dortmund
——-
ITALY
Inter Milan will host champion Juventus in the most mouthwatering match to catch this weekend in Italy. With a win, the hosts could jump all the way up to fifth place, which is the Europa League playoff spot. Fiorentina, Sampdoria and Genoa would all have to drop points for that to happen, though.
Napoli could jump into third place with a win over already-relegated Cesena. After losing 2-1 on aggregate in the Europa League semi against Dnipro, they need a pick-me-up as soon as possible.
Here is the schedule for this weekend in Serie A action:
Saturday:
Inter Milan vs. Juventus
Sampdoria vs. Lazio
Sunday:
Sassuolo vs. AC Milan
Atalanta vs. Genoa
Cagliari vs. Palermo
Hellas Verona vs. Empoli
Torino vs. Chievo
AS Roma vs. Udinese
Monday:
Fiorentina vs. Parma
Napoli vs. Cesena
———-
FRANCE
Paris Saint-Germain could clinch the title with a win at Montpellier if Olympique Lyon drop points at home against Bordeaux. If not this week, they are expected to clinch on the final matchday.
Marseille visits Lille hoping that they win and AS Monaco lose at home to Metz so they could overlap them into third.
AS Saint-Etienne looks to do the same when they visit Evian as the club truly desires the aspect of Champions League soccer next season.
Here is the schedule for Ligue 1 this weekend:
Saturday:
Bastia vs. Caen
Evian vs. AS Saint-Etienne
Guingamp vs. Toulouse
Lille vs. Olympique Marseille
Olympique Lyon vs. Bordeaux
AS Monaco vs. Metz
Montpellier vs. PSG
Nantes vs. Lorient
Nice vs. Lens
Reims vs. Rennes
————
What do you think of this weekend's action? Do you see Man United leap-frogging Arsenal? Do you believe Real Madrid can pick themselves up after their Champions League exit?
Share your thoughts below.