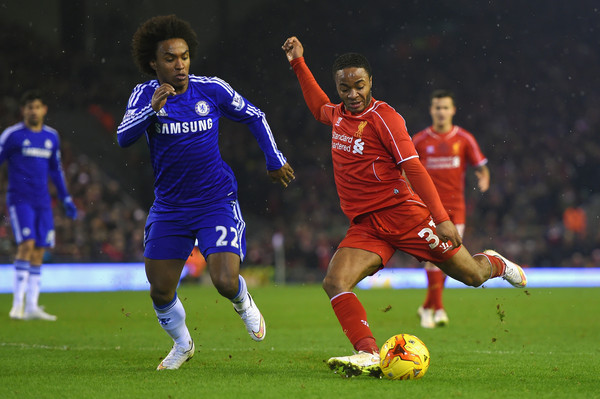 By AYDIN REHAN
Domestic action resumes this weekend in Europe after a busy midweek action that featured both the Champions and Europa Leagues.
In England, Chelsea welcomes Liverpool a week after being crowned Premier League champions in a game that could edge Liverpool closer to a Champions League qualifying spot.
Spain's title challenge heats up as Real Madrid hosts Valencia in this week's must-watch in La Liga, as the hosts are only two points behind Barcelona in second while the visitors are four points out of a guaranteed UCL group spot.
Here is what is happening in Europe's top five leagues this weekend:
ENGLAND
Despite already clinching the Premier League title, Chelsea's matchup with Liverpool still remains of great importance in the grand scheme of things. With just three games to play, Liverpool sit four points out of the fourth and final Champions League spot behind Manchester United, who takes on Crystal Palace.
Manchester City hosts relegation-threatened QPR knowing that they need a win to stay ahead of Arsenal in second place.
Hull City is only one point out of the relegation zone and they host dead-last Burnley who has fought all season long. A loss could allow Sunderland to overlap them into 17th.
Here is the full schedule in the EPL for this weekend:
Everton-Sunderland
Aston Villa-West Ham
Hull-Burnley
Leicester-Southampton
Newcastle-West Brom
Stoke-Tottenham
Crystal Palace-Man United
Man City-QPR
Chelsea-Liverpool
Arsenal-Swansea
SPAIN
Real Madrid has to defeat Valencia, especially if Barca downs Real Sociedad at home, in order to stay on-pace with the league-leaders.
Sevilla will look to catch Valencia in fourth when they visit Celta Vigo just days after a huge, 3-0, Europa League semifinal first-leg win over Fiorentina. If Valencia loses at Real Madrid, they will be level on 72 points but still behind on tiebreakers.
Bilbao is six points out of the Europa League qualifying spot so a win over Deportivo could edge them three points closer to that goal.
Here is the schedule for La Liga this weekend:
Eibar-Espanyol
Granada-Cordoba
Barcelona-Sociedad
Real Madrid-Valencia
Bilbao-Deportivo
Levante-Atletico
Villarreal-Elche
Almeria-Malaga
Celta Vigo-Sevilla
Rayo-Getafe
GERMANY
Borussia Monchengladbach hosts Bayer Leverkusen for a matchup that that could determine who finishes in third. The hosts are currently in that spot with 60 points with their guests in fourth with 58. After a huge 2-0 victory over the champs last week by Leverkusen, winning this one on the road is nowhere near out of the question.
If Wolfsburg loses at Paderborn, they will run the risk of dropping into third, since Moenchengladbach has the chance to jump into second against Leverkusen.
Here is what is on the docket this weekend in Germany's Bundesliga:
Hamburg-Freiburg
Bayern-Augsburg
Borussia Dortmund-Hertha Berlin
Monechengladbach-Leverkusen
Frankfurt-Hoffenheim
Hannover-Werder Bremen
Stuttgart-Mainz
Paderborn-Wolfsburg
Koln-Schalke
ITALY
AC Milan hosts Roma in a game that could be a treat or a disaster for fans of the latter. The visitors need the points to fend off Lazio who is a point behind them in third.
Lazio themselves host Inter as they are the second Rome-based against Milan-based clubs taking one another on this weekend. Lazio is hosting so they have an advantage compared to Roma.
Elsewhere, title winners Juventus take on Cagliari after the former topped Real Madrid in Champions League action midweek.
Here is the schedule for Serie A this weekend:
Juventus-Cagliari
AC Milan-Roma
Chievo-Hellas Verona
Cesena-Sassuolo
Palermo-Atalanta
Udinese-Sampdoria
Empoli-Fiorentina
Parma-Napoli
Lazio-Inter
Genoa-Torino
FRANCE
Marseille currently sits five points behind Monaco in fourth but could narrow that deficit down to two when they host them at the Velodrome. This is exactly what the team and the fans need after a run of poor results in recent weeks.
Evian could jump out of the relegation zone when they host Reims, who sits one point out and above them in 17th with 38 points.
Here is what is scheduled in Ligue 1 this weekend:
PSG-Guingamp
Caen-Lyon
Bordeaux-Nantes
Evian-Reims
Metz-Lorient
Rennes-Bastia
Toulouse-Lille
Lens-Montpellier
Saint Etienne-Nice
Marseille-Monaco