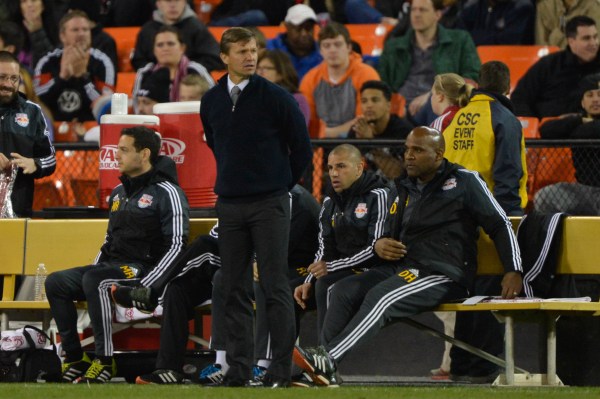 photo by Tommy Gilligan/USA Today Sports
By FRANCO PANIZO
NEW YORK — For Jesse Marsch, this isn't a rivalry. This is the start of one.
The New York Red Bulls will welcome cross-town rivals and expansion club New York City FC to Red Bull Arena on Sunday for the historic first meeting between the two sides. Some are already labeling the encounter a rivalry given the close proximity of the two clubs and the bad blood shared by both their fanbases, but Marsch is reluctant to give it such a distinction.
The Red Bulls head coach thinks there has to be history behind a rivalry, which there clearly isn't right now when it comes to these two New York clubs. But Marsch also believes that this inaugural encounter will have the type of immediate energy and passion that could set the tone for what's to come.
"In these kinds of games, it's just (about going) into the game understanding that the game takes a while to settle down," Marsch told SBI. "There's a lot of emotion, it's edgy to start, so you have to understand how to start the game, what the mentality is and then know that as the game goes on that whichever team is able to put their imprint on the game in their way is going to slowly manage to take over.
"There's also liable to have momentum changes, crazy things happen, and that's the way derbies go, so I think you have to be prepared for just about anything and everything."
NYCFC is reeling right now after going seven straight games without a victory, but it could be argued that the Red Bulls have more pressure on their shoulders going into this highly-anticipated encounter.
Apart from having to please a rabid fanbase that will not be satisfied with anything less than a win at home, the Red Bulls are in the midst of of a mini-slump of their own right now. The Red Bulls have not won in three straight games, including two at home, and have slipped from first place to third. Losing again, especially to their neighbors across the Hudson River, might set off alarm bells.
Marsch remains unperturbed, however. He likes the way the club has performed during this recent stretch, and is confident that things are headed in the right direction.
"I think we continue to play well and put games on our terms and we're unlucky with some of the results lately and we haven't hung out heads at all," said Marsch. "I think we still know there's still a lot of positive momentum in what we're doing and how we're doing it. It would be different if we were getting beat up in games and not dominating or losing by big numbers.
"We've been on top of every game we've played in. It's just a matter of now turning good (performances) into more victories."
That is all Marsch is focused on right now. He's not getting caught up in all the outside hype from fans and media nor is he concerned about handing NYCFC "a smashing" like his predecessor had wanted.
Marsch is simply preparing his Red Bulls for another match, even if it is one with a little more passion and energy than usual.
"I don't see it as pressure. If you do this for a living, you live with pressure," said Marsch. "All of us who are in this business understand what that means. For me, I think it's just about understanding what big games are about and now that making sure that our team is ready to compete and set the standard for this game."