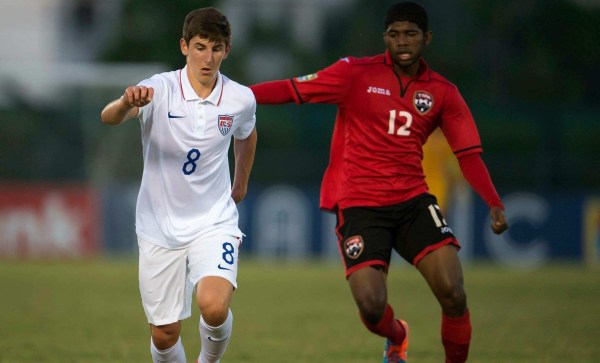 By FRANCO PANIZO
Tab Ramos has touted the current U.S. Under-20 Men's National Team as the most experienced and talented one that he has ever coached, but now the Americans will have to live up to the hype and deliver in order to prove they are deserving of such superlatives.
The U.S. Under-20s will begin their much-anticipated World Cup campaign on Saturday morning (12:01 am ET, Fox Sports 1) with a match against relatively unknown Myanmar. The Americans enter the showdown at Northland Events Center as the favorites, but that's a role they are expected to carry throughout the opening rounds of the competition after also being paired with New Zealand and Ukraine in a favorable Group A.
Apart from having landed a kinder draw, this group of U.S. U-20s is also much more seasoned than the one that went three and out in Turkey two years ago. Players like captain Emerson Hyndman (Fulham), Rubio Rubin (FC Utrecht) and Kellyn Acosta (FC Dallas) have begun to break through at the club level, making for increased expectations and pressure in this World Cup.
The Americans are aware of that, and of the fact that failing to get out of the group will be deemed as a huge failure. Still, the U.S. is not thinking that far ahead. The sole focus right now is on starting the tournament with a win.
"Our goal right now is to beat Myanmar the first game, so if we can get the three points the first game then the next challenge will come along," Ramos said earlier this month. "One of the things that the team knows – and it's no secret because I think every team in the world will tell you – that the team that we have can beat any team in any one given day.
"Right now we just have to focus on one game and win that one and then we'll take the others as they come along, because nobody is going to give us anything. I know that, and Myanmar is a lot harder to prepare than it was to prepare Spain and than it was to prepare Ghana or France."
Scouting for Myanmar may not be as easy as scouting for some of the traditional world powers, but the U.S. is still largely expected to control the opening game on Saturday. Ramos' side boasts a bevy of technically-gifted and versatile weapons in the attack – including Hyndman, Jordan Allen (Real Salt Lake), Bradford Jamieson (LA Galaxy), and Joel Sonora (Boca Juniors) – and that should allow the Americans to dictate much of the tempo and create chances.
In fact, it is the U.S.'s attacking unit that is considered the team's strength. The defense does have solid pieces in talented goalkeeper Zack Steffen (SC Freiburg) and centerback duo Matt Miazga (New York Red Bulls) and Cameron Carter-Vickers (Tottenham). But questions persist at outside back, where it seems that newcomer Desevio Payne (Groningen) is likely to replace one of Shaquell Moore (Huracan) or John Requejo (Tijuana).
"He's excited to be here so I value that a lot," said Ramos of Payne. "Then you see him play and you're like, 'Oh, and he can do that, too? That's pretty good.' He's not just a good guy."
Even with all the talent the U.S. possesses, there is one player who will have more eyeballs on him than the rest. Highly-coveted prospect Gedion Zelalem (Arsenal) was only recently given the green light by FIFA to represent the Americans, and many fans and observers are curious to see if the 18-year-old midfielder is as good as advertised.
For Ramos, a main issue will be figuring out how to fit Zelalem into an already-established group in a short amount of time. Ramos has hinted at moving to a 4-4-2 diamond formation for the World Cup, but it's unclear if Zelalem can jump right in and contribute given his lack of familiarity with the other U.S. players.
Regardless, the onus will be on the group as a whole. Steffen and Acosta will be just as important as Zelalem or Hyndman or Tommy Thompson (San Jose Earthquakes).
That's a lesson the Americans learned from their imperfect but ultimately successful qualifying campaign in Jamaica back in January. The U.S. came out of the gates slowly in that tournament before making adjustments, realizing that it can't overestimate any opponent at this level, and finishing strong to punch its ticket to New Zealand.
"You can't take any team lightly because every team is fighting for something, every team got there for a reason," Miazga told SBI earlier this month. "Now, it's the World Cup, so it's going to be an even bigger test, and we're looking forward to it."
Ramos has helped prepare his youngster for the World Cup by asking former U.S. internationals to impart their wisdom. The iconic Brad Friedel is on Ramos' staff for the tournament, and the legendary Landon Donovan recently paid the team a visit down under.
Now, the players will need to take all that they've learned at both the club and international levels in recent months and apply it to the World Cup. The expectations are big, but so is the opportunity to do something special.
"It's a big chance, obviously, to showcase and kind of show ourselves to the world," Bradford Jamieson (LA Galaxy) told SBI last month. "It's the world stage. It's the biggest competition for the U-20 age group. It's definitely the place where you want to be at this age."