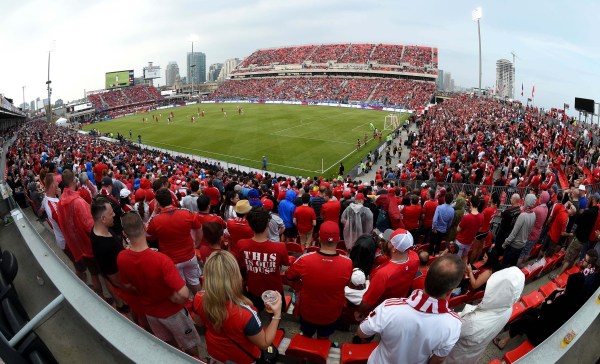 Photo by Dan Hamilton/USA Today Sports
By RYAN TOLMICH
An attempt to go viral via the rehashing of an internet meme looks like it will cost some TFC fans the privilege of watching their team in action, and has cost at least one of them his job.
The Toronto Star reported Wednesday that Maple Leaf Sports and Entertainment, TFC's owner, is reviewing video of an incident following Sunday's game against the Houston Dynamo.
During a live broadcast featuring reporter Shauna Hunt, a group of TFC fans heckled the reporter with vulgar comments, prompting a verbal confrontation between the two parties.
As a result, MLSE are reviewing video of the incident. One of the offenders has already lost his job as a result, while those involved are also facing a ban from all of MLSE's facilities, including BMO Field.
"The length of the ban is to be determined," said MLSE spokesperson Dave Haggith, "but it will be a minimum of one year."
In addition, MLSE released a statement addressing the incident on Tuesday via Twitter.
"We're appalled that this trend of disrespectful behavior would make its way to our city, let alone anywhere near our stadium," MLSE said. "We are working to identify the individuals, and when we do they will be banned from all of our facilities. Moving forward, we will also work with local television outlets to provide extra security support to female reporters during live hits at any of our games.
"Our organization is committed to an environment where everyone can feel safe and included and discrimination or intolerance of any kind will be met with a swift and serious response. We're thankful to our vast majority of fans for standing up against such sexist behaviour and working with us to prevent it in the future."
Have a look at the incident in the censored video below: