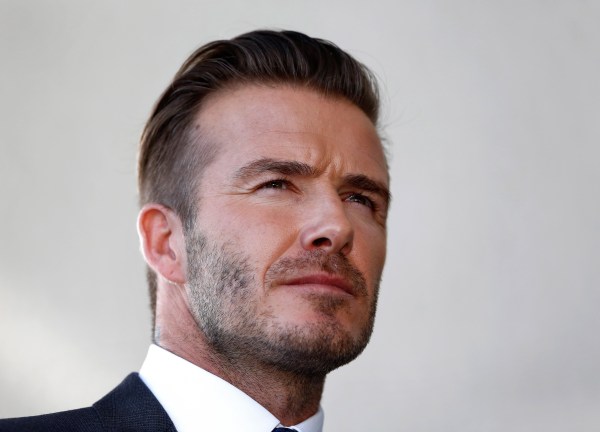 photo by Robert Mayer/USA Today Sports
By FRANCO PANIZO
The search for a stadium in Miami has not been easy, and is why David Beckham is reportedly considering partnering up with the city's biggest university.
The Miami Herald reported late on Thursday that Beckham, MLS commissioner Don Garber and University of Miami president Donna Shalala will meet Friday in the South Florida metropolis to talk about the possibilities of joining forces to build a football-soccer stadium. The venue would serve as the home of both Beckham's proposed MLS franchise and the UM football team, and Shalala recently said a new stadium for the latter would be in the 40,000- to 44,000-seat range.
Shalala, who is a member of the U.S. Soccer Federation board of directors, would have to help UM's football team find a way to break a 17-year lease with Sun Life Stadium in order to make the partnership with Beckham happen. Beckham, in turn, would have to assist in pinpointing a suitable location that both parties and local government would be happy with.
"David, (and partners Marcelo Claure and Simon Fuller) are making progress toward bringing an MLS club to Miami-Dade County," Beckham's group told the Miami Herald via a statement: "We're in the process of identifying viable sites and are entertaining a number of options. We look forward to sharing positive news with our fans soon."
One location that could be considered, per the report, is near Marlins Park. It is the site of the old Orange Bowl, which the Hurricanes played in for a long time but Fuller labeled as "spiritually tainted" last year.
What could help convince Beckham's group to settle on that piece of land, however, is that UM might be willing to pay for some of the construction if a stadium is built there. UM is reportedly not as big on the other two sites – in Overtown and near Miami International Airport – that Beckham is considering.
Beckham announced his plans to launch an MLS franchise in Miami in February 2014, but has run into numerous hurdles in his search for a location for a stadium.
Earlier this week, NASL beat MLS to the punch by announcing that it would be expanding into Miami with Miami FC starting in 2016.
What do you think of Beckham possibly partnering up with the University of Miami for a stadium? Would a 40,000- to 44,000-seat stadium be too big or do you deem it doable? Are you okay with the area near Marlins Park?
Share your thoughts below.