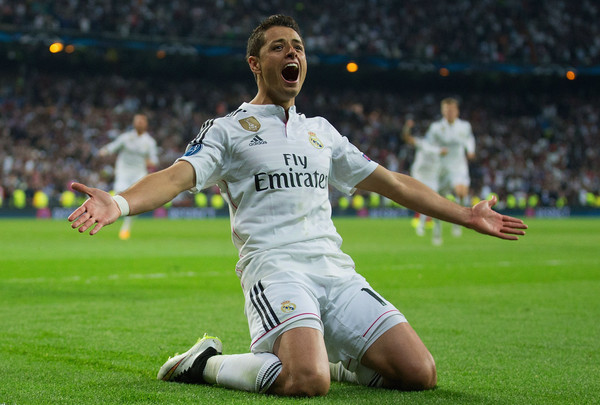 By RYAN TOLMICH
Javier 'Chicharito' Hernandez has hit a sepctacular run of form for Real Madrid, only furthering his desires to stay removed from the substitute bench.
The Mexican striker has filled in admirably in the absence of Karim Benzema, scoring four goals in the past six games including the winning tally in the Champions League quarterfinals against Atletico Madrid. Hernandez is glad that his patience has paid off in the form of playing time, but remains hopeful that that time will continue.
"The season has been very complicated," Hernandez said. "But, in football, sometimes the wheel turns very quickly. And thank God, I now have more possibilities to play. My parents taught me that patience and perseverance are part of learning. Today, I feel very good. For many people, I was already finished here, but it was only the beginning. One must not lower one's head.
"I learn every day in this great club and all I am grateful to God for that," he added. "I know that at Real Madrid the competition is strong and the minutes are rare and my intention was never to complain. But, at times, I just expressed the frustration I felt. As I am not one to be content with sitting on the bench, I always want more."
Here are some more news and notes to kick off your Monday morning:
BOCA JUNIORS TOP RIVER PLATE IN SUPERCLASSICO
Entering Sunday's clash level on points, Boca Juniors took the chance to put a little space between themselves and heated rivals River Plate.
Boca emerged from La Bombonera with a 2-0 victory, opening a three point gap over River and San Lorenzo in the Argentine first division.
The pair of Boca finishes came late, as substitutes Cristian Pavon and Pablo Perez provided goals in the 84th and 87th minutes, respectively.
The two sides will meet again in quick succession, starting with a contest on Thursday at River's Monumental Stadium in the round of 16 of the Copa Libertadores. The two will then collide on May 14 for the return leg in what will be the third meeting in 12 days for the rival sides.
TERRY HITS OUT AT BENITEZ FOLLOWING TITLE VICTORY
John Terry's time under former Chelsea interim manager Rafa Benitez was far from smooth sailing, a fact that the English defender was quick to remind the manager of after claiming the Premier League crown.
Terry was told two seasons ago that he could not be guaranteed a place in the starting lineup, beginning a major disconnect with the Spanish manager. Once gain a fixture in Chelsea's backline, Terry used the team's championship as a chance to state that he proved Benitez wrong.
"One person said I couldn't play twice in a week," Terry said. "He knows who he is. I have proved him wrong as I'm still fighting, still in the side and feeling great."
QUICK KICKS
Manchester City midfielder Samir Nasri's season may be over after suffering a hamstring injury in Sunday's 1-0 win over Tottenham. (REPORT)
Real Madrid will be without Karim Benzema for the club's Champions League semifinal first leg at Juventus. (REPORT)
Newcastle captain Fabio Coloccini got into a confrontation with goalkeeper Tim Krul on the team's bus with the latter criticizing the captain's lack of leadership. (REPORT)
Borussia Dortmund and Colombia striker Adrian Ramos will miss the Copa America after injuring his ankle in training. (REPORT)
—
What do you think of Chicharito's comments? What do you expect from the upcoming meetings between Boca and River? What do you think of Terry's shot at Benitez?
Share your thoughts below.