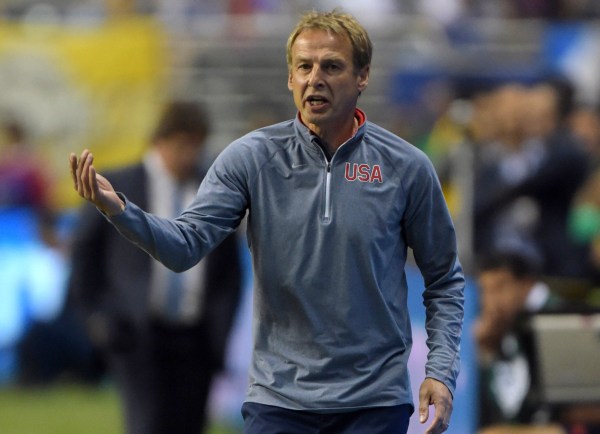 photo by Kirby Lee/USA Today Sports
By FRANCO PANIZO
It has been nearly four years since Jurgen Klinsmann took over the U.S. Men's National Team, but his goal for the Americans remains largely the same.
Since taking over as head coach in July 2011, Klinsmann said time and again that he wants to help the U.S. play a more proactive style. That has been seen at times during Klinsmann's tenure, but so, too, has has the familiar reactive approach that previous coaches employed.
Klinsmann knows that there is work to be done if the U.S. is to stand toe-to-toe with the stronger nations in the world on a more consistent basis, but he has been encouraged by how things have developed under his tutelage these past four years.
"We're not sitting back on our heels," Klinsmann told FIFA.com in a recent Q&A. "We're trying to play with the big teams. We moved the whole game a little farther up the field. We pressure high now. Step by step, we're learning how to play out of the back. All these elements are part of a more proactive style.
"But we're still in the phase of piecing it together. It's likely to take years."
Klinsmann's current deal runs through the 2018 World Cup, and he has already stated that the U.S. team's goal for the tournament in Russia is to reach the semifinals. The Americans have not accomplished that feat in the modern day – they did back in the first World Cup in 1930 when there were only 13 teams in the competition – but Klinsmann believes his side has what it takes, so long as the Americans learn how to become a "tournament team" and continue to build on the skills they have developed so far.
"The formation doesn't matter; it's how you connect every piece together on the pitch, and this is a learning process," said Klinsmann. "We need to teach everyone to be connected, all the way from the goalkeeper and his defensive line, up to the strikers. There's a collective movement that you see with teams like Germany and Spain – with the big teams.
"You notice how close and compact they are when they have to defend and how fast they open up when it's time to attack. You try to teach these elements. These are the things you need to teach to players no matter what system you use."
In recent months, Klinsmann has trotted out different lineups while giving looks to younger and more inexperienced players like Stanford forward Jordan Morris and Minnesota United winger Miguel Ibarra. Some of that experimentation has come at the expense of friendly results, but Klinsmann is not too bothered by that because he sees this part of the cycle as a "development period."
Klinsmann is currently gearing the U.S. up for its CONCACAF Gold Cup title defense. Winning that tournament would lock up a berth to the 2017 Confederations Cup, which would serve as a dry run to the World Cup and provide invaluable experience a year before things kick off in Russia.
Klinsmann witnessed at the 2014 World Cup in Brazil that the U.S. struggled to keep its tempo as the competition progressed and the opponents got more challenging. He wants to avoid a repeat performance in three years' time, and is working right now to ensure that the Americans can make a deep run.
"You need to get stronger every game you play, so your curve goes upward and you're not running out of gas after the group," Klinsmann told FIFA.com. "This is a huge learning curve. It's technical, tactical and mental. You have to show them what's it's all about. You need to be on top of everything not just for six weeks, but for eight weeks, so we've started this process already for 2018.
"We will educate and explain to fans, the media and the players – everybody will know that we're setting a very high goal."
—–
What do you think of Klinsmann's comments? Agree that the current U.S. team plays a more proactive style? Still think the U.S. looks like it did before Klinsmann? Think reaching the semifinals of the 2018 World Cup is a realistic goal?
Share your thoughts below.