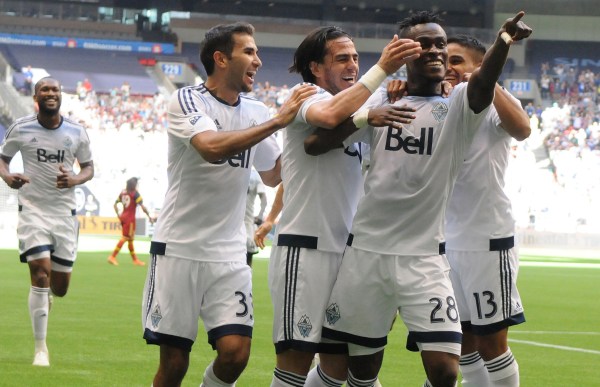 Photo by Anne-Marie Sorvin/USA TODAY Sports
By AARON CRANFORD
Despite a thunderous free kick from Real Salt Lake midfielder Javier Morales, goals from Gershon Koffie and Cristian Techera saw the Vancouver Whitecaps edge out their Western Conference foe once again in a 2-1 result.
The Whitecaps have had Real Salt Lake's number for while now, and they dialed in again Saturday, topping their Western Conference foe for the third time in their last five meetings.
Real Salt Lake saw its winless slide against the Whitecaps extend to five games, as Vancouver is 3-0-2 in that stretch vs. RSL.
Cristian Techera claimed his first ever MLS goal after a fatal mistake made between Nick Rimando and centerback Justen Glad in the 79th minute. Their indecisiveness around the six-yard box was the to benefit of Techera, who gave the hosts their first win since May 9.

The Whitecaps had most of the better chances in the first half, with midfielder Koffie pinging the crossbar after Pedro Riberio sent a low cross in from the right flank in the 24th minute.
Koffie would more than make up for the missed chance, though, when he thumped a sizzling strike that fizzed past Rimando's outstretched left hand in the 36th minute of play.
Mauro Rosales' curling cross into the box was cleared away to the feet of Joao Plata, but 23-year-old midfielder Koffie took control away from the Ecuador international well outside of the penalty box and sent a blast into the top-right corner of the net, sending the stadium into a thunderous roar.
However, just before halftime, Morales silenced the noise at BC Place hitting a thunderous strike of his own off of a free kick.
With time winding down in the second half, Techera, on a season-long loan from Club Atlético River Plate Montevideo of the Uruguayan Primera Division, was the one to step up for Vancouver. He grabbed his first goal in MLS after pouncing on a mistake made by RSL almost 10 minutes from full time.
Glad chested a Whitecaps cross from the left near the six-yard box and waited for Rimando to come out and claim it, but it was Techera who was the most alert and made RSL pay for the indecision.

On the bright side for RSL, Ecuador international Plata started his first game of the season. Plata fractured the fifth metatarsal in his left foot during training in January, but he served a solid 70-minute shift before being subbed out.
Real Salt Lake will host the Colorado Rapids on June 7, while the Whitecaps travel to play the Montreal Impact Wednesday before traveling to face the Los Angeles Galaxy on June 6.