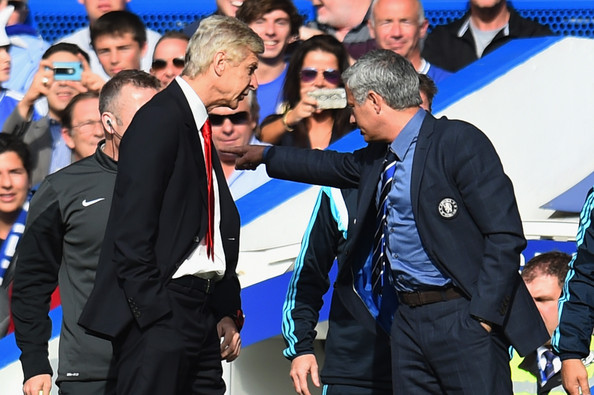 By RYAN TOLMICH
Chelsea manager Jose Mourinho and Arsenal boss Arsene Wenger have certainly had their differences. But despite their relationship, Wenger would like to see the Portuguese manager show a bit more respect.
Mourinho took shots at Wenger and Arsenal following last week's draw between the two sides, calling the Gunners "boring" for not winning a title in the past decade, echoing fan chants of the same word. Now, the Frenchman has shot back at his counterpart in response to Mourinho's postgame jabs.
"I think I just told you that the biggest thing for a manager is to respect other managers," Wenger said. "Some people have to improve on that.
"Look, everybody lives with his own internal problems and I live with mine. That's enough. You can have incidents with other managers sometimes. It gets a bit heated when you fight directly with them but in the end I believe time heals and the important thing is to respect each other as much as you can."
Here are some more news and notes to kick off your Friday morning:
BARCELONA CALLS FOR UNIVERSAL TRANSFER BAN PARDON
Barcelona has already been struck by a transfer ban for this season, but the Catalan club does not wish the same fate upon its La Liga counterparts.
Both Real Madrid and Atletico Madrid could face similar punishments for their recruitment and signings of international youth players, but Barcelona's transfer spokesperson Charly Rexach has called for pardons in an effort to prevent difficulties.
"There should be a pardon for everyone," Rexach said. "Barca has lost out in this already, and the Solomon-style solution [a reference to the Biblical story] is a pardon for everyone. If we have three teams who cannot sign players, the world of football collapses."
LIVERPOOL, PSG LEAD RACE FOR DEPAY
PSV Eindhoven star Memphis Depay is all but assured to be a part of a big-money summer move and it appears that two frontrunners have emerged in the race for the Dutch midfielder.
PSV director Marcel Brands, who had previously stated his belief that Depay will depart this summer, says that Liverpool and Paris Saint-Germain are ahead of the race. Manchester United, whose manager, Louis van Gaal, coached Depay at the most recent World Cup with the Dutch national team, have also shown interest, as has Bayern Munich.
"They [PSG and Liverpool] are indeed a step ahead of Manchester United," Brands said. "They [United] have only informed us about their interest.
"It is only logical that there is so much interest in him. Memphis is enormously efficient for a young player. He should be very proud."
The 21-year-old has scored 27 goals for PSV this season.
QUICK KICKS
Manchester City's Yaya Toure will miss the next two games with a hamstring injury. (REPORT)
Juventus must close the Curva Sur portion of their stadium for two games following incidents of fan violence in their last game. (REPORT)
Arsenal legend Patrick Vieira remains disappointed that the club didn't offer him a role following his retirement. (REPORT)
Andres Guardado has signed a three-year deal to remain with PSV Eindhoven. (REPORT)
Chelsea striker Diego Costa may be shut down for the rest of the season ahead of a new summer fitness program. (REPORT)
—
What do you think of Wenger's comments?  What do you expect to come of the potential bans? What team would be the best fit for Depay?
Share your thoughts below.