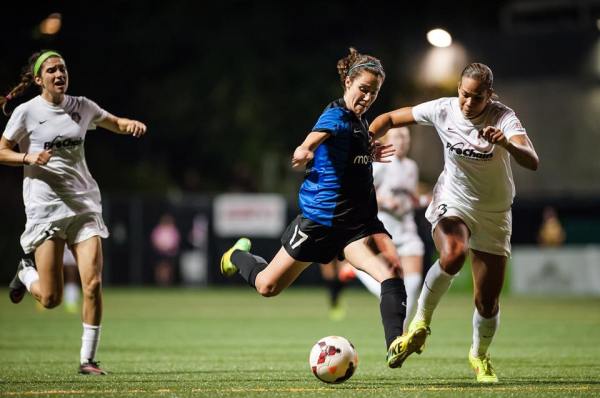 Photo by Seattle Reign FC/NWSL
By LEOPOLDO PONCE
Last week was highlighted by a flurry of goals. However, this week may be different as the majority teams will be without that their U.S. Women's National Team players, who are headed to training camp ahead of the Women's World Cup in Canada.
The only exceptions are Western New York Flash (Whitney Engen and Sydney Leroux), Chicago Red Stars (Lori Chalupny, Julie Johnston, Christen Press, and Shannon Boxx), and Boston Breakers (Alyssa Naeher).
They are exempt because every other team in the NWSL has already played 3 games, but they have not. The rest of the league, though, will be without some of their best players.
Last week saw two teams earn their first victories of the season, FC Kansas City and Boston Breakers, thus leaving only Western New York Flash as the only team without a win this season.
Now with that in mind, here is a look at this weekend's NWSL matches:
Sky Blue FC at Chicago Red Stars (Saturday, 6:00pm ET – watch live)
Sky Blue FC had difficulty defending against the Washington Spirit in Week 3. These defensive issues will only be magnified this week as they lose both Kelley O'Hara and Christie Rampone to the USWNT.
Making matters even worse for Sky Blue FC is the fact that they face off against one of only three teams that will not be affected by national team call-ups this week. If Sky Blue FC had trouble with Crystal Dunn (Washington Spirit) last week, then the one-two punch of Shannon Boxx and Christen Press may be too much for them.
Before the loss against the Spirit, though, Sky Blue FC were on an NWSL record breaking seven-game unbeaten streak. If they can somehow manage to return to that form on the back of the talented Katy Freels. Then they may be capable of pulling off an upset victory on the Red Stars.
Boston Breakers at Western New York Flash (Saturday, 7:00pm ET – watch live)
Both the Boston Breakers and Western New York Flash are coming into this game at full force, as neither team will be affected by national team call-ups until the following week.
The Breakers are coming into this match following their first victory of the season. This came after defeating the Houston Dash in a game that seemed to have slipped out of their hands, but was salvaged by a Carli Lloyd own goal that ended up giving them the three points.
The Flash come into this game with not only the worst defense in the league but also the worst offensive. This bad combination of statistics is the reason why they are coming into this as the only NWSL team without a victory this season.
However, to the fortune of the Flash, they face off against the only other team in the league that has allowed a league-worst six goals in two games, the Boston Breakers. If they can somehow shut down a Boston Breakers offense that still has not found their groove and take advantage of their defensive lapses. They may come out of the game with their victory.
This will, of course, depend on the Western New York Flash jump-starting their league worst offense. Going into this game the favorites are the Boston Breakers, and if that prediction turns out to be right, the Flash will have to wait another week for their first victory of the season.
FC Kansas City at Houston Dash (Saturday, 8:30pm ET – watch live)
Defending NWSL champion FC Kansas City has not started their season on the right foot. FC KC is currently second to last on the table, and their offense has only mustered 2 goals in three games. This could start changing as they finally earned their first victory of the season this past week against Seattle Reign FC.
This is the opposite of the how the Houston Dash are coming into the game. Even though the Dash have had an impressive offensive output, scoring five goals in three games, it has only been enough for one victory. Now that they have lost Carli Lloyd and Morgan Brian to the USWNT, their offense will have to depend on Jessica McDonald and Kealia Ohai. This should not be a problem as McDonald is coming off of an impressive performance that saw her score a brace in a loss to the Boston Breakers.
If FC Kansas City wants to stay on their winning course, it will have to take advantage of a less than stellar Houston Dash defense that has cost them points in the previous two games. The problem for Kansas City on offense will come in trying to get past the loss of Heather O'Reilly, Lauren Holiday and Amy Rodriguez, who are some of the more talented players in the NWSL and USWNT pool.
Washington Spirit at Seattle Reign FC (Saturday, 10:00pm ET – watch live)
The Washington Spirit are coming into this game on the back of two victories, and are currently the hottest team in the NWSL.
After opening their season without scoring a goal in a loss against the Houston Dash. They have scored six goals in two games, while only conceding two in those same games. This uptick in their offense coupled with their recent defensive efforts make them the favorites coming into this game.
On the other side of the spectrum is Seattle Reign FC. Seattle started the season with the most impressive performance of the first round scoring 5 goals and only conceding one. However, they are currently on a two-game losing streak, having lost to both Chicago and FC Kansas City.
Even though, the Spirit are coming into this game as the favorites, both teams have impressive offenses that are capable of pouncing on any mistake. This should be one of the more impressive games of the week, because of the contrast in which both teams enter this fixture, and for what they are capable of doing.