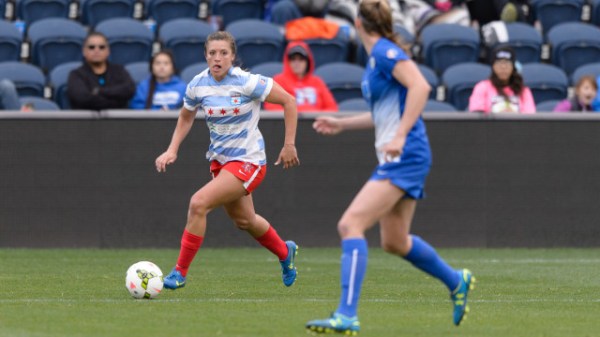 By LEOPOLDO PONCE
Following a week of rallies, superb goalkeeping performances, and player movements, Week 7 in the NWSL season is sure to be an interesting one.
The Dash, Breakers, Thorns, and Sky Blue FC all look to end their two or more game winless streak. Red Stars will also put their first place league standing on the line when they travel for their first away bout of the season.
Every single game this week has an interesting story behind it, as teams are still trying to find their form and come together following the loss of their players to the Women's World Cup.
Let's take a deeper look into each match-up:
WESTERN NEW YORK FLASH at FC KANSAS CITY (Thursday, 8pm ET – watch live)
After what could be considered the best goalkeeping performance of the NWSL season by Nicole Barnhart. FC Kansas City looks to extend their win-streak to four games against Western New York Flash.
This is the second meeting between these two teams in less than a week, with Flash losing at home 1-0 on an Elizabeth Bogus goal in the 73rd-minute of play. Before the winning goal, the Flash looked like the better side, having more shots on goal than FC KC.
This could mark the first game for midfielder Ashley Nick, who was traded for defender Toni Pressley midweek with the Houston Dash. Nick could be the missing piece between the Flash's defense and offense that they have been struggling to find.
This game will likely require another heroic performance from Barnhart as the Flash look to avenge their defeat.
CHICAGO RED STARS at HOUSTON DASH (Friday, 8:30pm ET – watch live)
The Red Stars are currently atop the table, but now their real test begins. All four of their previous matches have been at home, and their match-up against the Dash will mark an road trip that will span until the end of June.
Chicago is coming off an impressive 3-0 victory over the Boston Breakers. Forward Sofia Huerta is also on fire as she was recently voted NWSL's Player of the Week following an impressive two-goal, one-assist performance.
The Dash want to end the Red Stars' fairy tale beginning and start a run of their own — after going winless since opening day — as they come of a busy bye-week. During the bye, Dash managed to trade midfielder Ashley Nick to the Flash for defender Toni Pressley.
Houston committed to the trade as it has recently come into some defensive problems. Since it was announced earlier this week that Brittany Bock is ready to return from injury, the midfield will not be taking much of a hit with the trade.
PORTLAND THORNS FC at BOSTON BREAKERS (Saturday, 4pm ET – watch live)
Thorns FC is coming into this match as one of only two teams in the NWSL to still be undefeated. The other team is the Red Stars. The Thorns travel to Boston with a problem that has plagued them in the previous two games: conceding early goals.
The Thorns have surrendered a pair of early tallies in each of their two previous matches. These early defensive lapses have caused them to constantly chase the game – even though they have done so successfully by rescuing a pair of 2-2 draws against Chicago and another against Washington. The Thorns cannot keep on relying on late-game heroics to salvage points.
While on the subject of defensive lapses, the Breakers are currently the worst defensive team in the league having conceded 12 goals in four matches. This also places them dead-last in the standings. To Boston's misfortune, it will be going against one the best offenses in the league.
However, if the Breakers manage to take advantage of the Thorns' defense early, they may be able to shock the league and come out with a much needed result at home.
SKY BLUE FC at WASHINGTON SPIRIT (Saturday, 7pm ET – watch live)
Sky Blue FC is coming off a last-minute draw via a penalty against Reign FC. While this goal may have been enough to end SBFC's two-game losing streak, it is still currently on a winless run of four games
The club's only victory of the season came in their first game of the season against FC Kansas City.
SBFC is looking to avenge its 3-1 home loss against the Spirit earlier this season and finally get back to winning ways. Standing before them, though, is a Spirit team that feels like it let a win slip through its fingers after letting a two-goal lead against the Thorns turn into a draw in their previous game.
If the Spirit want to be victorious at home, they will need to defend way better than they have during their previous five games. At the moment, they have the second-worst defense in the league. Much to their fortune, they will be facing one of the worst offenses in the league, so it should be no shock if this game ends up being a tactical standstill.