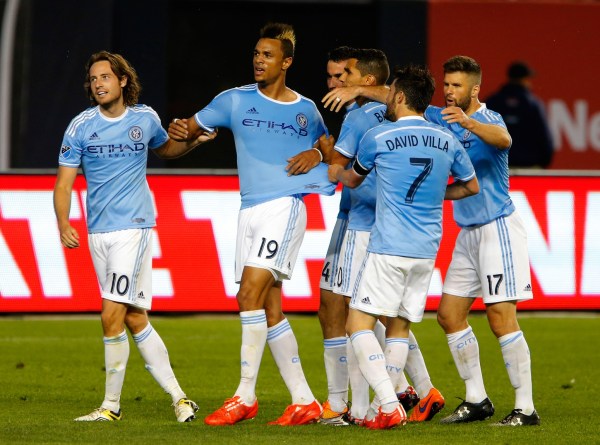 BY MICHAEL PENG
NEW YORK — New York City FC was looking for a spark from somewhere, anywhere.
Staring in the face of a one-goal deficit and a potential nine-game winless streak while down a man, rookie Khiry Shelton stepped forward with a goal – the first of his career – in stoppage time to salvage a much-needed point for his team in a 2-2 draw against the Chicago Fire on Friday at Yankee Stadium.
"I say it all the time that a point wouldn't be good enough for us at home but I never imagined a scenario like this," NYCFC head coach Jason Kreis said. "A point was certainly very, very good for us tonight."
After subbing on in the 60th minute, Shelton received a feed from David Villa just inside the box and struck the ball with his left foot to send it rolling past Chicago goalkeeper Sean Johnson and into the bottom right corner, sending a crowd of 23,315 roaring in the Bronx.
"It was just instinct," Shelton said. "I've been working on that with Jason Kreis and it came off."
The goal was Shelton's first of the season, and it also helped NYCFC snap a four-game losing streak with the draw.
"I'm very hopeful that this is set as a sort of landmark for our group that they understand they can get results if they are willing to do whatever it takes," Kreis said. "I need them to understand and believe that we are good enough if we worked that hard."
Chicago's Razvan Cocis' header in the 14th minute got the scoring started and Jeff Larentowicz converted a penalty 13 minutes later to put NYCFC in a big hole.
The penalty was award to the Fire after NYCFC defender R.J. Allen gave David Accam a hard sliding challenging. Allen was issued a red card by referee Ted Unkel, forcing NYCFC to play with 10 men for the third time in this past month.
"At this point it's kind of a putting a damper on the mood in the locker room because we are coming a man down sometimes in halftime," defender Jeb Brovsky said, "but we have to deal with it, and I think the guys now know how to play with 10 men… I think we handled it well and hopefully going down the road we don't have any more red cards."
Medhi Ballouchy managed to get a goal back for the home side after he cleaned up a rebound off a David Villa shot in stoppage time of the first half, and NYCFC carried some momentum into the break after getting dominated by Chicago in the first half.
"The goal was huge," said Brovsky on Ballouchy's score. "It really kind of gave us a big spark and kept us very level-headed at halftime."
The Fire controlled the first 45 minutes with 53.5 percent possession against an NYCFC team that is ranked second in the league in that category coming into the contest.
Chicago also took 14 shots to NYCFC's five in the first half, and 11 of the Fire's attempts were taken inside the box, with five of them aimed on target. NYCFC on the other hand, managed just two shots on target in five attempts during that span.
"It's easy to be frustrated when you see the potential to be a really good team, and I think we've shown flashes of that, but we don't often put together a full 90-minute performance," Fire midfielder Harry Shipp said.
Chicago will look to get a better result when the club visits the Columbus Crew next Friday. NYCFC, meanwhile, prepares to travel to Utah to take on Kreis' former team, Real Salt Lake, on Saturday.