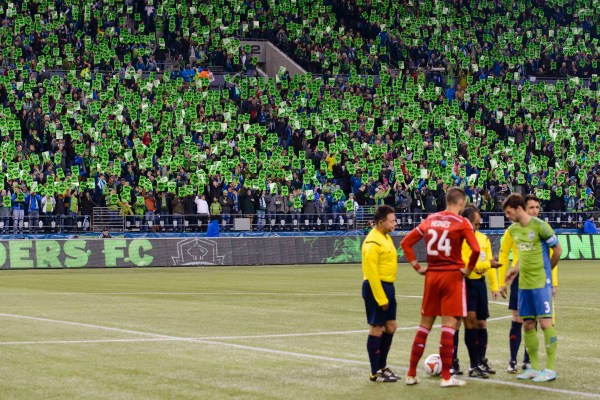 photo by Steven Bisig/USA Today Sports
By FRANCO PANIZO
NEW YORK — Last month, the Columbus Crew took two cross-country flights in the span of four days for a pair of road matches on opposing coasts. The Chicago Fire had a 20-day break that they labeled a mini-preseason. The New York Red Bulls also expressed their displeasure with the start-stop nature of their schedule.
None of that would happen in a perfect world, but Brad Pursel does not live or operate in a perfect world.
The MLS schedule has come under much scrutiny since the start of the 2015 campaign, especially in April as the league moved games to accommodate the Montreal Impact in their run to the CONCACAF Champions League finals. There's been understandable complaints about lengthy travel, too many bye weeks, and long layoffs.
Enter Pursel. A 19-year employee of MLS, Pursel currently serves as the league's vice president of club services. As such, he is the person who, by and large, handles the tedious process of creating the MLS game schedule every year. Hundreds, if not thousands, of hours go into that job, and there's a number of variables that determine what the ultimate 34-game season looks like for each team.
The finished product is never ideal for all clubs, and Pursel is empathetic with them over the rough parts of the schedule, but he sees no way of pleasing everyone given all that has to be worked through.
"It's just a matter of there's not enough overall space in our calendar to have a perfect schedule for any of our teams," Pursel told SBI. "That's just the competition calendar itself with all the competitions that our teams are in, but it's also stadium availability, travel issues, weather issues. You put all those factors in the mix, and it's impossible to deliver perfect schedules for any individual team or overall, so we try to get the best possible schedule that we can."
From his experience, Pursel believes scheduling issues even out. While the Colorado Rapids might have a stretch one year that forces them to travel 6,000 miles – as they did last week to take on the Red Bulls and LA Galaxy before returning home – they might avoid such a grueling road trip the following year.
That still does not stop teams, fans and media from complaining or criticizing the schedule. It is a subject that comes up often throughout the course of the year, especially around the time of FIFA international windows. While most leagues around the world take a break during those dates so as to not force clubs to play without their international players, MLS plays through them much to the public's dismay.
Attempts have been made by MLS to avoid playing during the FIFA windows, but the league has determined that it's just not feasible to go dark during all of them. MLS has, however, identified a few this year in which games do not necessarily have to be played.
"We determined we'd play through the March one, which we historically have done, and for June, September and October, the league is going to take the position, 'We're not going to schedule games on those dates,'" said Pursel. "However, we'll provide the options to the team. If the clubs feel that it's better for them to play on those FIFA dates because it relieves schedule congestion, gives them a better pattern to their overall schedule, it might be better for attendance, just better overall dates, then we will permit that if both teams who are playing in that game agree to it."
International competitions also play a part in how MLS pieces together the enormous jigsaw puzzle that is scheduling. Last year, the league took a two-week break for during the group stage of the 2014 World Cup in an effort to avoid playing during the busiest time of the tournament.
This year and in 2016, MLS will have other summer obstacles to deal with. The 2015 CONCACAF Gold Cup is scheduled for July, and the 2016 Copa America centennial that the U.S. Men's National Team is guaranteed to take part in will be held next June.
Both tournaments fall at times in the calendar year when weather is favorable and kids are out of school, which is part of the reason why MLS is likely to play through them albeit with fewer matches than usual.
"Historically we've played through the Gold Cup, but we lighten the load a little bit, so we may not have a full slate of games on every weekend," said Parsel. "We try to limit the number of midweek games that would fall during that time. July Wednesdays are our prime summer-selling Wednesdays, but we realize that we don't want to have additional games during the Gold Cup so we reduce that schedule and try to fit them elsewhere where they can fall.
"As far as next year's Copa America here, we haven't decided yet what our position will be. My guess is we will treat it somewhere similar to Gold Cup, World Cup where we will have a reduced schedule of some sort."
Adding more midweek games might make sense to help alleviate the schedule congestion throughout the summer and year, but there aren't many teams that do well with attendance when playing on Tuesdays, Wednesdays or Thursdays. The Seattle Sounders, Portland Timbers and Sporting Kansas City are among the few that routinely draw good crowds even when they are not playing on weekends, but they are the exceptions in a league of 20 teams.
Factor in the amount of other midweek competitions and there are really not many dates to cram games into.
"Really the available Wednesdays that are in the calendar are restricted," said Pursel. "You have to stay away from all the U.S. Open Cup fixtures, you have to stay away from all the CONCACAF Champions League fixtures for those teams that have qualified, you have stay away from our All-Star Game date, we stay away from the Wednesdays that are on either side of FIFA date weekends, primarily we try to. We generally don't schedule midweeks in March or April because the weather is not favorable.
"When you factor in all of those things, there's only a handful of Wednesdays left that actually work and it's usually in May, June – not July this year because of the Gold Cup – and then August."
There is always room for improvement, of course, and the MLS schedule is not immune to that. While Pursel admits it would be nice to have fewer other competitions running concurrently with the MLS campaign, he knows that's just not possible.
For now, issues like taxing road trips, rapid-fire bye weeks, and weeks of inactivity will persist, and both MLS and its clubs will just have to make due.
"Every year we're trying to making minor revisions to get better," said Pursel. "I don't know that there's one major thing to fix. I don't think we can lengthen our schedule because we can't go earlier because the weather would not permit it. We can't go later for the same reason.
"I don't think we can reduce the number of overall games we have, which would relieve schedule congestion but then the teams are not playing enough games to be competitive. It's just a constant challenge each year with what we're dealing with."