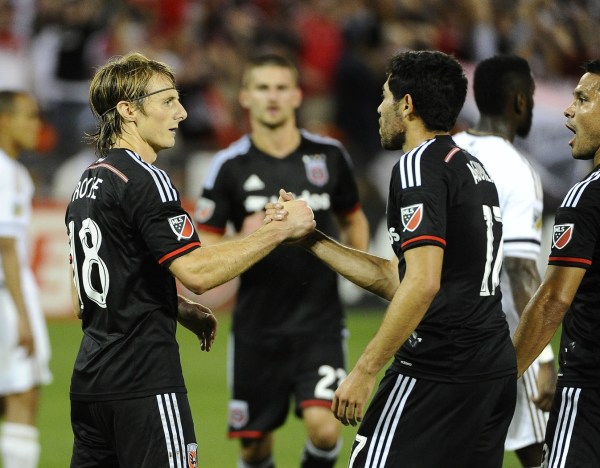 By CLIFF STARKEY
WASHINGTON— A late penalty kick goal by Chris Rolfe gave D.C. United revenge over their I-95 rivals in the form of a 2-1 win Saturday night at RFK Stadium.
Sebastien Le Toux's early goal was canceled out at the stroke of halftime by a powerful header by Chris Pontius, before Rolfe's winner late in the second half.
The win keeps D.C. United on top of the East, while the Union will have to look to their next game to regain their lost momentum.
The Union opened the game strongly with a goal in the 5th minute from Sebastien Le Toux. Inability to clear by Steve Birnbaum led to Andrew Wenger with the ball in front of Bill Hamid's goal. After a quick fake shot, Wenger laid it off to Le Toux, who easily scored.
Despite having the majority of possession in the first half, D.C. United once again missed Fabian Espindola, who is still out with an injury. It looked like the Union would have an advantage at halftime, but D.C. United leveled just before the break when Taylor Kemp's fantastic cross from the wing was headed home by Chris Pontius.
Although D.C. United was again missing playmakers Luis Silva and Espindola, Ben Olsen started a lineup of regulars, a far cry from Wednesday night's loss in Portland. Andrew Wenger got another start in front of CJ Sapong, and his first half shot off the crossbar could have made it a very different game.
As the game looked set to end in a draw, an innocuous cross high into the box struck the outstretched arm of Pfeffer. After a controversial no-call in the first half, Referee Ted Unkel pointed to the spot, where Chris Rolfe easily beat Brian Sylvestre for the win.
Both teams have midweek games on Wednesday, when the Union will host the Columbus Crew, while D.C. United will welcome the Chicago Fire to RFK.