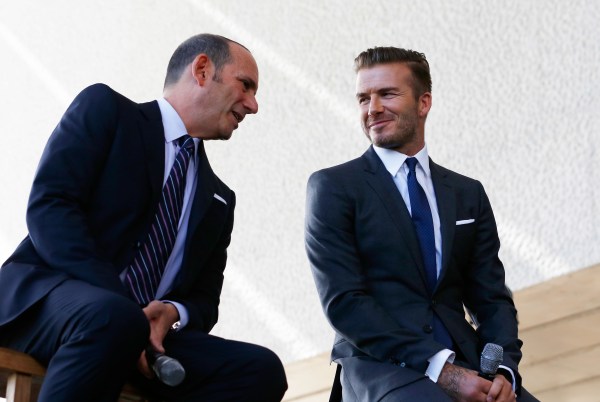 photo by Robert Mayer/USA Today Sports
By FRANCO PANIZO
At long last, little brother stepped up to big brother.
MLS suffered a hit to its expansion plans on Wednesday when NASL came out of left field announcing that it was expanding into Miami. A new club named Miami FC that is partially owned by former Italian national team star Paolo Maldini will take the field next year, meaning NASL will launch a franchise in the South Florida metropolis before MLS and its European great, David Beckham, can.
After watching MLS snatch up its markets for years, including most recently Minnesota, NASL struck back with a move that has now put MLS on the defensive in a market it has struggled to make progress in.
Beckham and his group of investors, Beckham Miami United, have been stuck in relative limbo since announcing their MLS plans in February 2014. Strong local opposition has twice thwarted Beckham Miami United's chances of finding a suitable piece of downtown land to build a soccer-specific stadium, and with no soccer-specific stadium MLS has said there will be no team.
There has not been much progress made in recent months, at least not publicly, and MLS commissioner Don Garber is scheduled to head to Miami later this week in what will be his latest attempt to try and iron out a deal. Not just any location will do, either. MLS and Beckham's group want land in or very close to downtown Miami, and a location near Marlins Park has yet to be embraced despite its relative close proximity to the area.
But with an NASL team now being inserted into the equation, the pressure raises tenfold on MLS, Garber and Beckham to find a stadium solution. They no longer have the luxury of waiting for a dream location to pop up – not when an NASL team is entering the fray with the idea of making an impact in the market – and will have to come up with an altered strategy in the coming weeks and months, if not days.
If MLS wants to launch a team in a soccer-loving city known for its glitz and glamour and short attention span in the near future, the league, Beckham and Garber will have to now be more bullish about hammering out a deal. They will also have to be less picky about a location, meaning that the site near Marlins Park could soon become a real option worth considering.
Anything short of those changes in approach will result in a longer wait, which would allow NASL and Miami FC to further steal MLS's thunder and damage Beckham's chances of ever getting his team off the ground.
Rest assured, MLS will do everything in its power to avoid a scenario that sees it scrap Beckham's Miami plans because of the NASL. Losing to an opponent deemed inferior is never ideal, and that's exactly what the two leagues are at this point after years of verbal jabs and calculated competitive decisions.
The clock is ticking on MLS's Miami plans, and a decision will need to be made soon on whether the city is still worth one expanding into.