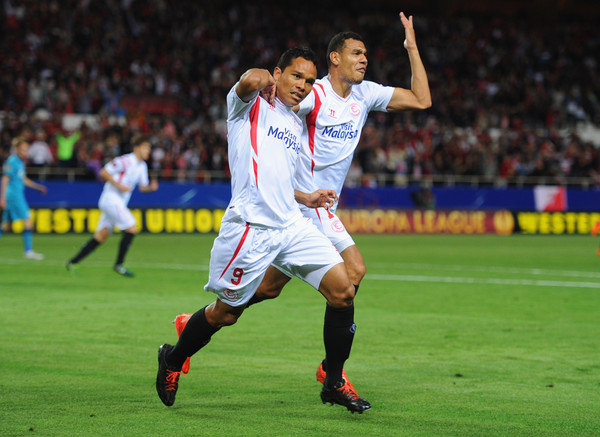 By MATT STYPULKOSKI
Though the Europe League is often sneered upon as a trap for ambitious clubs on the rise, it also provides the chance at a trophy, prize money and a coveted Champions League place.
All of that will be on the line when Sevilla and Dnipro Dnipropetrovsk square off in the competition's final on Wednesday in Warsaw (Fox Sports 1, 2:45 p.m.).
In addition, Sevilla has a chance to make a bit of history. After winning the Europa League in penalties against Benfica last year, the Spanish side could lift the trophy for the fourth time with a victory this afternoon. A win would make Sevilla, which also won the UEFA Cup in 2006 and 2007, the first club to ever win the competition – in any of its iterations – back-to-back on two separate occasions.
Of course, Dnipro still stands in the way of those accolades. 
The Ukranian club is making its first-ever appearance in the final and has advanced this far against the odds. All 19 of its European matches have come away from home.
That's not to say that all of Dnipro's games have been played on the road, but due to the conflict in Ukraine, the club's usual home was unsuitable for Europa League competition. Instead, Dnipro was forced to play nearly 250 miles away in Kiev, which is a safe distance from the violence.
Despite the move, Dnipro has managed to pick up wins against much larger clubs than itself – including the likes of Ajax, Napoli and Olympiacos – to make the final.
In addition to the historical implications and Cinderella story, Wednesday's final also provides a look at a few men who might soon be off to bigger, more high-profile roles.
Sevilla manager Unai Emery has been consistently linked with West Ham United, while Carlos Bacca has been mentioned alongside the likes of Manchester United. On the other side, Dnipro forward Yevhen Konoplyanka – who has been sought by Liverpool, Tottenham and Everton in the past – becomes a free agent after this season.
But before he moves on, Konoplyanka could play a key role in how this year's final is decided. Considering that Sevilla will likely enjoy the lion's share of possession, his ability to hit on the counterattack may well be Dnipro's most valuable weapon.
What are you most looking forward to about today's final? See any interesting on-field matchups? Which team will lift the trophy?
Share your thoughts below.