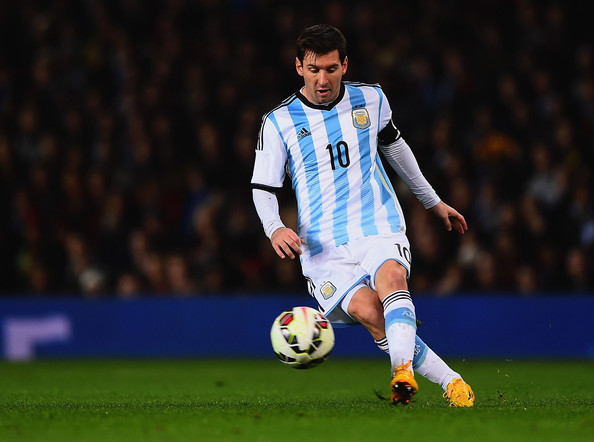 By DAN KARELL
Some of the world's biggest stars will be gracing the fields this summer in Chile for the upcoming 2015 Copa America
Lionel Messi, Neymar, James Rodriguez, and Alexis Sanchez were among the big names listed in the provisional squads of 30-players that were released on Tuesday. Also included are Radamel Falcao, Roque Santa Cruz, and Carlos Tevez, who earned a recall from Argentina after missing last summer's World Cup. Argentina's forward depth is so deep that they didn't even have room for Mauro Icardi and Paulo Dybala, who have also impressed in Italy this season.
Mexico coach Miguel Herrera named his 23-man squad for the tournament with seven alternates. The squad is headlined by 36-year-old Rafa Marquez, and also features Luis Montes, former Real Salt Lake defender Carlos Salcido, Atletico Madrid forward Raul Jimenez, and FC Twente's Jesus "Tecatito" Corona.
Notable absences to the tournament include Luis Suarez, who is still serving his FIFA suspension for biting Giorgio Chiellini at the World Cup, Javier Hernandez, and Chelsea midfielder Oscar.
Here are some more stories to start off your Tuesday:
FIFA TAKES NEW STEPS TO MONITOR RACISM
Perhaps in a move to garner positive public reaction, FIFA announced on Tuesday that they're going to introduce a "system of match observers" to monitor racism from fans during World Cup qualifying matches.
FIFA are coordinating the new system with FARE, a European anti-discrimination association. Any incidents of racism will be reported to FIFA, who will dole out the punishments, though it's unclear how serious FIFA will take incidents and what the punishments will be.
The news comes as we move closer to the 2018 World Cup in Russia, a country that has seen more than 200 incidents of racism at soccer games between 2012-2014, according to Reuters.
QUICK KICKS
Napoli head coach Rafa Benitez has been fined €5,000 and suspended one game for making comments that were insulting to Italian soccer. (REPORT)
AS Roma midfielder Gervinho could miss the remainder of the Serie A season after suffering a hamstring strain. (REPORT)
Budding Aston Villa midfielder Jack Grealish has rejected a call-up to the Republic of Ireland National Team. (REPORT)
Everton left back Leighton Baines will see a specialist over an ankle injury suffered last Saturday. (REPORT)
Japanese forward Yoshinori Muto has reportedly rejected an offer from Chelsea to make a €3 million move to FC Mainz. (REPORT)
——–
What do you think of these reports? What do you think of Argentina's chances? Do you see Uruguay defending their Copa America title? What do you think of FIFA's announcement?
Share your thoughts below.