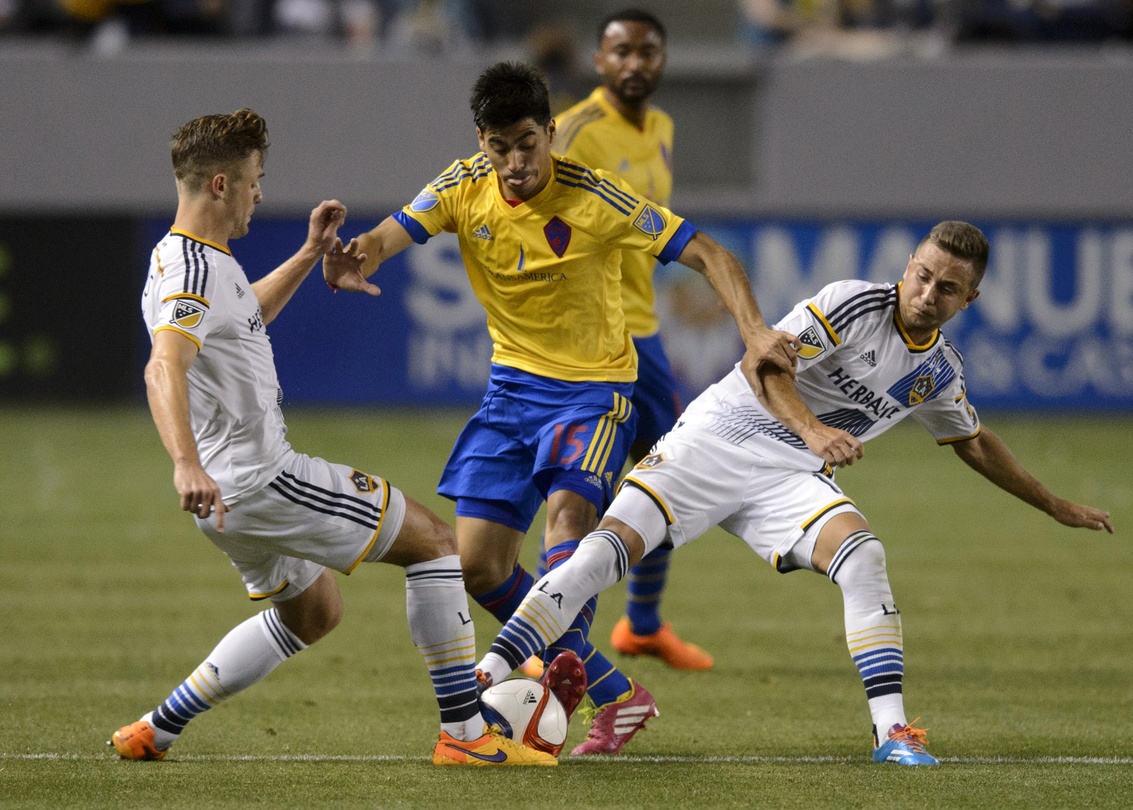 Photo by Kelvin Kuo / USA Today Sports
By MARK EDWARD HORNISH
CARSON, Calif. — Perhaps thinking a game against a last place team was a chance to rest his veterans, Galaxy head coach Bruce Arena waited until deep into the second half to send out his starting lineup.
Alan Gordon and Stefan Ishizaki subbed on in the 70th and 72nd minute, and three minutes later, combined to rescue a point for the defending champions against the Colorado Rapids, 1-1, before 16,676 on a beautiful balmy Southern California night.
Gordon's goal came in classic fashion, muscling both Rapids center backs out of the way before beating goalkeeper Clint Irwin with a sharp header to the far post off a curling Ishizaki corner kick.
"Ishi played a great ball, first and foremost" said Gordon after the match. "Most of these goals I score, I don't have to do much, just get my head on it, and hope it goes in.
It was not the first time the Rapids had seen there hopes dashed by late Gordon heroics.  Last season, Gordon netted twice in the second half of two games games against the Rapids. Once to preserve a draw, once to grant the Galaxy a come from behind win.
"I don't know what the secret is," continued Gordon when asked about his knack for late goals. "I'm in the right place at the right time. I don't want to say it's all me, because it's not.  I've been lucky."
Colorado played an aggressive high pressure strategy throughout the night, attacking the Galaxy passing lanes, and were rewarded for their hard work in the 41st minute. Gabriel Torres stole a deflected square pass and found himself alone in on goal, as the entire Galaxy back line was nowhere to be seen, his only pursuer midfielder Rafael Garcia.  Torres banged home the breakaway and gave Colorado an unlikely advantage heading into the half time locker room.
Arena started the match with a very youthful, experimental lineup, pairing seventeen year old prospect Bradford Jamieson IV up top with Gyasi Zardes, and starting Rafael Garcia and rookie Ignacio Maganto in the midfield.
"We're gonna need those guys, not only this month, but June and July" said Arena when asked about selecting so many young players to his starting XI. "We have a very heavy schedule coming up. I think it's important for our whole team to be ready to play."
The moves did not pay off, as the Galaxy looked flat for most of the evening until Arena finally brought on his starters with twenty minutes left.
"I think they did a good job" continued Arena when asked about the performance of this three subs, all of whom – Juninho, Ishizaki, and Gordon – are in the starting lineup more often than not. "We pushed to try to win the game, not only to get the equalizer, but then a second goal. But Colorado did a good job."
It was enough to salvage a point for the Galaxy, but no more. Galaxy were off target on more shots than found the frame on the evening, ending the night with nine attempts, but only three on goal. The pairing of Jamieson and Zardes did not produce dangerous attempts, and the two young players rarely linked up with one another.
"We just didn't see the ball enough tonight" commented Zardes on his and Jamieson's ineffective play.
Arena agreed. "We didn't play well enough to get them involved as much as I'd like, partly attributed to Colorado doing a good job defensively and closing down passing lanes. But they can certainly play better as a pair."
It was the Rapids' third straight 1-1 draw, the second this week, flying from New York to Los Angeles to play two of the league's premier clubs on three days' rest. After Gordon's equalizer, Colorado was happy to see the game out and head home with a hard-earned point. The Rapids will host San Jose on Friday night.
The Galaxy head into a difficult stretch of the season, with three consecutive road games on the schedule in the space of two weeks. It appears more and more likely that they will have to do so without the services of captain and MLS MVP Robbie Keane, who has now missed four consecutive matches with a groin injury and was not in the locker room tonight.
The Galaxy will play at Rio Tinto against Real Salt Lake on Wednesday, and then to Dallas on Saturday, before heading to Orlando for a matchup with Kaka, Brek Shea, and the league's newest team on May 17.