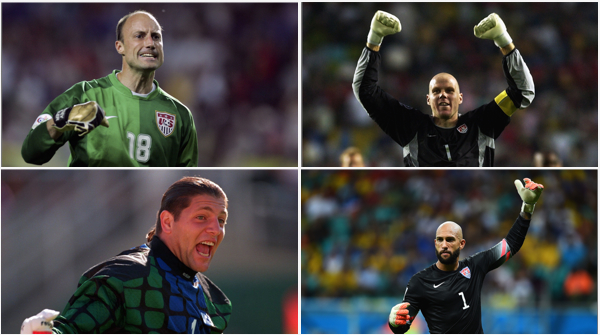 By RYAN TOLMICH
Another legendary American goalkeeper is hanging up the gloves, and a familiar and inevitable question will make the rounds again.
Just who is the best American goalkeeper of all time?
Brad Friedel announced Thursday that this season will be his last, signaling the end of a 21-year-professional career full of contributions that have helped earn respect for American players abroad.
With retirement looming, Friedel has certainly earned recognition as one of the best goalkeepers, and players, that the U.S. has ever produced, but where exactly does he rank among the greats?
Friedel is one of four goalkeepers who generally make up  the conversation for best American netminder. Kasey Keller, who competed with Friedel frequently on the international level, was a member of four U.S. Men's National Team World Cup squads and enjoyed a long and impressive club career. Tony Meola was a standout in MLS, while also manning the nets in the 1990 and 1994 World Cups. Then you have Tim Howard, who has spent more than a dozen years in the English Premier League, and has been the U.S. starter for the past two World Cups.
Who do you think is the best American goalkeeper of all time? Cast your vote here:
[polldaddy poll=8867300]
Who did you vote for? What is your lasting memory of Brad Friedel? Which young American goalkeeper can you see joining this impressive list of goalkeepers one day?
Share your thoughts below.