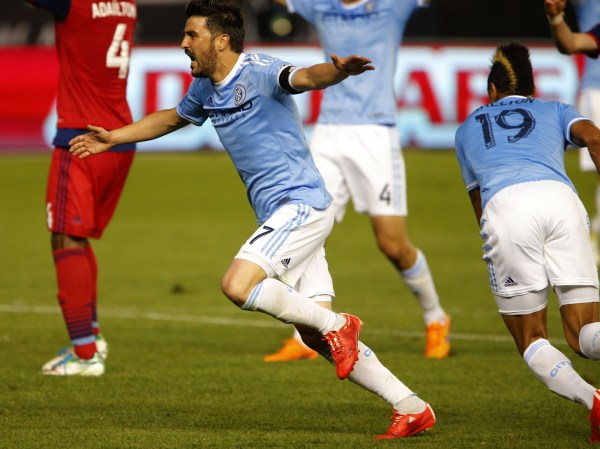 Photo by Noah K. Murray/USA Today Sports
BY MICHAEL PENG
NEW YORK — It was setting up to be another disappointing night in the Bronx for New York City FC, but the men donning sky blue dug deep and found the resiliency and belief they needed to somehow rescue a point amid all the odds that were stacked against them.
"I think it's one of the most special moments of my coaching career to be honest," head coach Jason Kreis said after his club earned a 2-2 draw with the Chicago Fire on Friday. "To be two goals down and a man down for as long as we were, to come back and draw shows what kind of character this group has."
NYCFC has not won a game at Yankee Stadium since its home opener two months ago, and from the way the game going in the first half hour on Friday, things again looked bleak for Kreis' club.
The Fire had built a two-goal lead and got NYCFC defender R.J. Allen sent off via a straight red just 27 minutes into the contest, but the home team managed to stay even-keeled for the remainder of the game to mount the comeback.
"I do not remember in my entire career to be in a similar situation, being with 10 men for over 70 minutes and to show this attitude and how we dominated the game after that," forward David Villa said through an interpreter after the game. "I think it was fantastic to come back from 2-0 down and score goals and not concede any. It was a fantastic attitude from the team."
Villa's efforts were vital in the rally, as he was a catalyst in both of NYCFC's goals. The first came just before halftime as the rebound off his shot was cleaned up by Medhi Ballouchy, who now leads the team with three scores.
"Goals can come at really critical moments in matches," Kreis said. "Scoring right before halftime really shifts the momentum and sends us into the locker room thinking we can do this."
Chicago had dominated the first half but NYCFC's energy coming out of the break made up for the disadvantage in numbers.
"There were quite a few players that really were willing to do anything tonight to get us that result. It was incredibly important," Kreis said. "I need them to understand and believe that we're good enough if we work that hard."
Still, the equalizer from Khiry Shelton — who scored his first MLS career goal — did not come until stoppage time, so all of NYCFC's efforts could have gone in vain, but midfielder Mix Diskerud recalled a childhood memory to keep the faith.
"That's the beauty about soccer, you always believe, and I watch enough soccer to know that. I've come down 5-0 and won the game 6-5 when I was 14 years old. So those memories help," Diskerud said. "You can't give up."
With the draw, which Diskerud also called the game "the best tie [he's] ever experienced in [his] life," NYCFC snaps a four-game losing streak, and many hope this could be a turning point for the club moving forward.
"It was very important for us," said Villa, who provided the assist on Shelton's goal. "Before the game, we wanted to get points, but we also wanted to regain positive feelings… We needed this.''