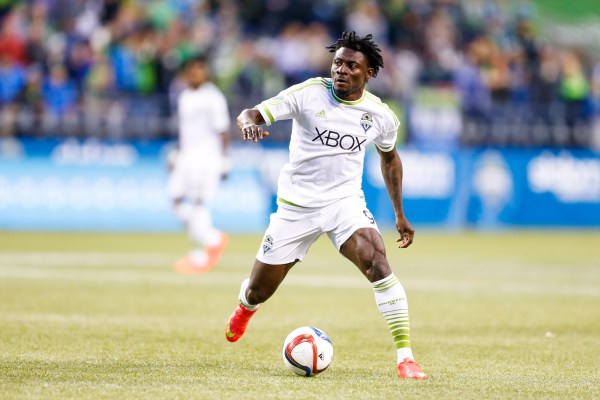 By AARON CRANFORD
Obafemi Martins had to sit and watch as the Seattle Sounders were atypically held scoreless at home against Sporting Kansas City on Saturday.
However, the dynamic speedster was back in training Tuesday after recovering from a leg injury, and he is likely to suit up against the Colorado Rapids in the team's midweek affair.
"I think [Martins] should be back for Wednesday," Sounders head coach Schmid said. "He's over it, and we'll just move forward."
Martins was forced to sit out of Week 12 action, but with a quick turnaround and the Rapids having only conceded nine goals in 2015, Seattle is hoping the return of its star forward means the return of goals galore.
Here are some more MLS news and notes:
BERHALTER EXPECTS FINLAY TO PLAY THROUGH BROKEN TOE
One broken toe won't deter Columbus Crew SC midfielder Ethan Finlay.
Despite reportedly suffering the injury before the team's match against the Chicago Fire Saturday and being forced out in the second half, Finlay took part in a majority of the Crew's training on Tuesday. Head coach Craig Berhalter thinks the injury is not as serious as it sounds.
"He should be able to (play through it)," Berhalter told The Columbus Dispatch. "We'll probably hold him out (for Wednesday's exhibition against Spanish club Valencia) and he was limited in training today so it's still serious. Thankfully it's not really bad."
SYLVESTRE RECALLED BY RAILHAWKS FOR U.S. OPEN CUP
After a solid all-around performance against the New York Red Bulls on Sunday, the Philadelphia Union now have to part ways with their goalkeeper, but only for one day.
Sylvestre helped his side keep a clean sheet against the Red Bulls, making three saves during the affair, but with NASL clubs entering the 2015 U.S. Open Cup fray Wednesday, the Carolina RailHawks have recalled Brian Sylvestre from the Union.
The RailHawks have advanced to the fifth round of the tournament in the previous two editions, even making it to the quarterfinals in the 2014 tourney. With Sylvestre performing well for the Union and a possible matchup between the two down the road, the RailHawks' move means that the Union will not be able to cap-tie the goalkeeper in the Open Cup.
PANAMA MIDFIELDER ESCOBAR JOINS FC DALLAS
FC Dallas has had no problems finding the back of the net in 2015, scoring a league-leading 18 goals in 12 games played, and Tuesday, the club bolstered its arsenal by inking Panamanian Rolando Escobar.
He makes his move from Deportivo Anzoategui SC, a first division club in Venezuela, where he has appeared 104 times and scored 31 goals since 2011.
"Escobar is a player that can fit in anywhere in the midfield," FC Dallas Technical Director Fernando Clavijo said of the 33-year-old. "He is more of an attacking player than a defensive player but the number one thing he adds is experience. We feel he is a guy that can come in and contribute right away, which is rare in MLS, especially in his position. We are looking ahead to a very competitive second half of the season. Escobar's experience, knowledge and quality will help us."
Do you think Martins will start vs. the Rapids Wednesday? Think Finlay can play through his toe injury?  Share your thoughts below.