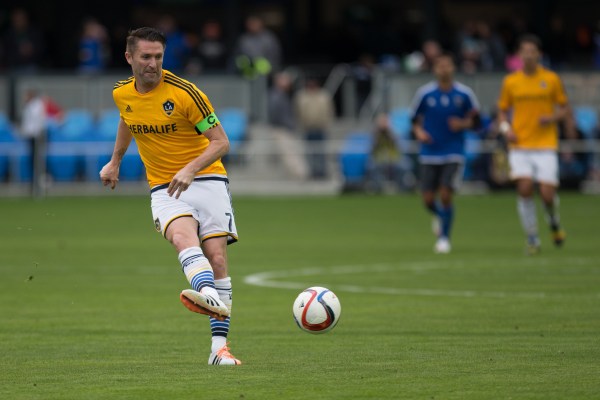 photo by Kelley L Cox/USA Today Sports
By FRANCO PANIZO
Mired in a rough stretch that has seen them score three times in five games, the LA Galaxy are set to receive a big boost in the attack.
Robbie Keane returned to Galaxy training on Wednesday after missing the last seven games with a groin strain, and could be in uniform for Friday's home tilt against the Houston Dynamo. The 34-year-old striker's absence has been felt during that stretch, as LA has just six times while compiling a 2-2-3 record.
"I'm feeling very good, looking forward to getting back," Keane told reporters. "It was nice to get back the last two days, back in practice with the lads. So far, so good. … No pain, not at the moment.
"We have to see, the next couple of days. (I'm) certainly looking for minutes on Friday. I think you all know me well enough now that I don't enjoy weekends off. I prefer to be playing."
The Galaxy's Designated Player has played in four games this season, scoring twice.
Here are more notes from around MLS:
ODURO SIDELINED WITH GROIN INJURY
If the Montreal Impact are to build on this past weekend's win, they will have to do so without Dominic Oduro.
Oduro is set for a spell on the sidelines due to a groin injury he sustained in this past Saturday's 4-1 victory over Real Salt Lake. Neither Oduro or the Impact provided a specific timeline for his return, but they did reveal that the speedy forward escaped having to go under the knife.
"The MRI was positive," Oduro told reporters on Wednesday morning. "I just want to take it day by day. Me getting healthy is more important, right now, than trying to rush it to the field. I'm just trying, as much as possible, to get my rehab, get better, get fit, and when the time is right, I'll be able to get out there.
"When, I don't know, but I just want to take it day by day."
Oduro has played in six matches this season for Montreal. He has one goal.
SAPONG CLEARED TO RETURN TO UNION
C.J. Sapong has been out of action this entire month, but he might soon start earning minutes again for the Philadelphia Union.
Sapong has been cleared to return to play by MLS after being made ineligible for the last few matches due to DUI and reckless driving charges he received in Philadelphia on May 1. Sapong was said to be getting assessed by doctors of MLS's Substance Abuse and Behavioral Health program, and would only be cleared to resume play once that evaluation was completed.
"In compliance with MLS rules, C.J. has willingly participated in the necessary steps to get to this point," technical director Chris Albright said in a statement. "We look forward to having C.J. back in the team and will continue to support him, as we're confident in his commitment both on and off the field."
Sapong is currently in his first season with the Union. The veteran forward has made three starts in six appearances for the club, and contributed a goal and an assist.
WHITECAPS ADVANCE TO CANADIAN CHAMPIONSHIP FINALS
There was no shortage of late-game drama in the second leg of the Canadian Championship semifinals series between the Vancouver Whitecaps and FC Edmonton, but it was the MLS club that came out on top in the end.
Matias Laba scored the series-winning goal deep into stoppage time on Wednesday to give the Whitecaps a 2-1 victory over FC Edmonton. The match at Clarke Stadium seemed destined to head to extra time after Tomi Ameobi had converted a 91st-minute penalty kick, but Laba found the back of the net in the 97th minute to hand Vancouver a 3-2 aggregate win.
Pedro Morales scored Vancouver's opener via an early penalty kick.
The Whitecaps will now play the Montreal Impact in the Canadian Championship Finals in August. Montreal knocked off Toronto FC to reach the championship series.
Is Keane's return enough to help the Galaxy turn things around? How do you see the Impact faring without Oduro? Expecting Sapong to come back strong for the Union?
Share your thoughts below.