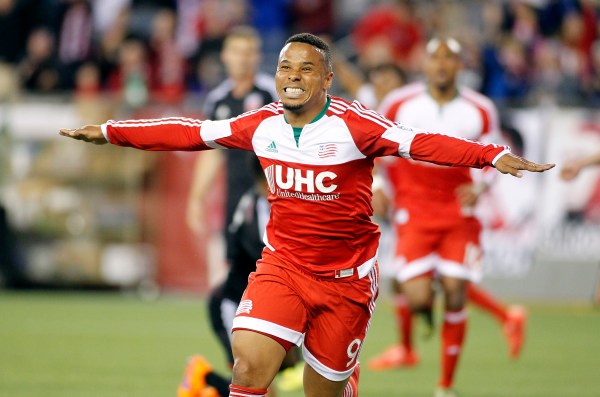 Photo by Stew Milne/USA TODAY Sports
By CARL SETTERLUND
FOXBOROUGH, Mass. — What was billed as a matchup between the top two teams in the Eastern Conference standings quickly devolved into a test of endurance Saturday night at Gillette Stadium.
The New England Revolution's Chris Tierney and Lee Nguyen picked up red cards six minutes apart early in the second half against D.C. United., and that opened up the window for Ben Olsen's squad to secure an 80th-minute equalizer in a 1-1 draw in front of the 15,216 in attendance.
"You practice being down to 10 men. I've got to be honest with you, we don't practice behind down to nine men," Revs coach Jay Heaps said afterward. "But we just had a 35-minute session."
Charlie Davies banged home a rebound in the closing moments of first half stoppage time to send the Revs in front, but Jairo Arrieta finished at the left post on a feed from fellow substitute Taylor Kemp on D.C.'s only shot on target the entire game.
"We knew when they brought in Kemp they were just going to whip those balls in," Revs center back Andrew Farrell said. "It just takes one miscommunication, one mistake."
The result ensures that D.C. United (6-2-4) remains two points ahead of the Revolution (5-3-5) in first place. D.C. moves on to play four games over the next two weeks, while the Revs are off until next Sunday when they host the LA Galaxy in a rematch of last year's MLS Cup Final.

"I'm not sure what to say about that game," D.C. United coach Ben Olsen said. "1-0 down at half, I'll take the tie, right? But at 1-1, up two men? It'd be nice to get out of here with a win."
D.C. may have a tough time with that grueling stretch after Michael Farfan came off with an injury in the 38th minute. The Revs will also need to rely on their depth against the Galaxy due to automatic suspensions to Nguyen and Tierney.
Tierney received a straight red card for catching Chris Pontius across the knee with his studs in the 52nd minute. Nguyen received his second yellow card of the night in the 58th minute after an elbow to D.C.'s Davy Arnaud. Nguyen's first booking also came against Arnaud.
"I'm 100 percent sure that if we play 11 (versus) 11 that we would win that game," said Revolution captain Jermaine Jones, who received a booking of his own in the 88th minute.
The Revs had gone ahead in the waning moments of the first half off a left side corner kick by Tierney. Juan Agudelo headed it on target and D.C. goalkeeper Bill Hamid couldn't hold on. Davies was waiting there to jump on the rebound and make it 1-0 in favor of the hosts.
New England played with fire during the second half even after going down to nine men, as London Woodberry committed a hard follow while already on a booking and Jones received just a yellow card for yelling at and bumping referee Mark Geiger in the 88th minute.
D.C. set the final score in the 80th minute on a play that included all three of Ben Olsen's substitutes. Facundo Coria advanced the ball down the left sideline to Kemp for a sharp centering pass on the ground that Arrieta attacked for a close-range finish at the near post.
"It's a decent result," D.C. United midfielder Perry Kitchen said. "At least we come out with something. Saying that, I felt we were all not sharp enough tonight."