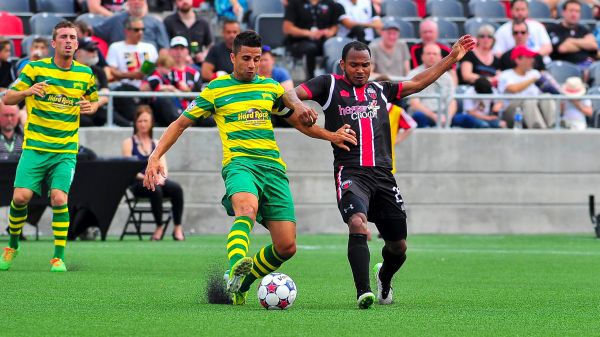 Photo by Steve Kingsman/Ottawa Fury FC
By RYAN TOLMICH
In need of a victory to keep pace with the league-leading New York Cosmos, the Tampa Bay Rowdies were forced to settle for a draw.
The Rowdies were held scoreless by Ottawa Fury FC on Saturday as the two sides finished 0-0 at TD Place.
Both sides earned chances to score late, with the Rowdies' Corey Hertzog's first-time volley looped over the crossbar. Meanwhile, the hosts nearly earned all three points through Brandon Poltronieri, who was stopped by goalkeeper Matt Pickens in a one-on-one opportunity.
In a first half that saw both sides earn half-chances, the play was defined by a series of injuries as Fury FC's Romauld Peiser and Rafael Alves joined Rowdies captain Marcelo Saragosa in picking up knocks.
Saragosa in particular was left bloodied by the action in the 36th minute with a wound that would reopen in the second half, leading to the midfielder's substitution in the 76th minute.
Following the draw, the Rowdies sit two points behind the Cosmos prior to the league-leaders' meeting with FC Edmonton on Sunday, while Fury FC sits in ninth with five points through six games.
The Rowdies will now return home following a stretch of four road matches in the team's opening six games. With three of the team's final four games scheduled within the friendly confines of Al Lang Stadium, the Rowdies host the Fort Lauderdale Strikers on May 16, while Fury FC returns May 23 against Indy Eleven.