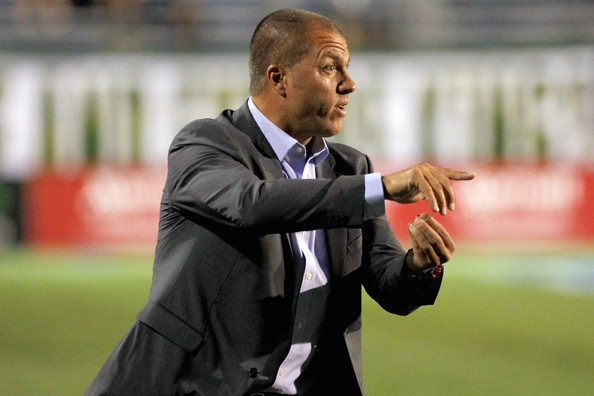 By RYAN TOLMICH
Going into the 2015 NASL season, the New York Cosmos were widely regarded as one of the deeper teams in NASL, with multiple contributors at each spot on the field. Those contributors have led the Cosmos to the top of the league through six games, giving head coach Giovanni Savarese some tough decisions to make going forward.
Unbeaten through six games, the Cosmos have generally relied on those players that have helped lead the way, leaving some players on the bench who would be starters for most other teams in the league.
"For me I think it's the fact that everyone is a starter, for me," Savarese said on a conference call. "Right now there are some guys that have been doing well, so I'm going to keep going through the week and then figure out if we have to change in regards to that. It's something where we're always strengthening the team and every player is a starter.
"We analyze the game on who's going to start or not, but the guys that have been stepping on the field now are doing very well."
For Savarese, those lineup decisions have proven difficult, as valued players like Adam Moffat and Mads Stokellien haven't been in the lineup full time despite their talent.
Savarese says it all comes down to being honest with players and letting them know that the team does have a place for them to shine in both NASL competition and the upcoming U.S. Open Cup.
"I think you need to be honest and tell the truth. I think in preseason, everybody had the chance to be able to play and we saw where we were at at that point and had to make some decisions," Savarese said. "They understand that there's going to be a long year, there are going to be plenty of opportunities throughout the year, and everybody needs to stay on the same page and be focused because I think a lot of players will be used. The entire roster will be in use because it's going to be a long year."
In many ways, the Cosmos' depth will certainly be a positive, especially for veterans Raul and Marcos Senna. As the season continues to push on, Savarese will certainly feel comfortable giving his two Spanish stars extra rest and time away from the grueling turf.
With that being said, Savarese is making sure to keep his guys fresh for when that, or any situation, arises. With the newly formed Cosmos B, the Cosmos have a place for each player to remain fit and tested.
Savarese says that the reserve team, along with the senior club's grueling practices, will go a long way toward keeping everyone in a rhythm for the long-haul, as the Cosmos get into the flow of an important season.
"We prepare practices to make sure that they get what they can," Savarese said. "In practice, we separate them at times to get them a little bit more in a rhythm of play. Also, we have Cosmos B, so as you can see we had (Jimmy) Mulligan and (Hunter) Freeman playing there. Whoever is on the team will have the chance to play with Cosmos B to make sure that they stay fit.
"For me, every player is important, so I think that the fact that we have a small roster, but a big roster in talent, I think that's going to be useful."